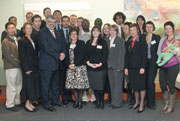 VU's research strategy of developing key areas of strength and funding early-career researchers won support from Research, Industry, Innovation and Science Minister Senator Kim Carr today.
Speaking at the launch of the VU's Postdoctoral Research Fellowship Scheme, Senator Carr said the Federal Government was boosting research funding in several key areas, including:
an increased number of research scholarships and fellowships;
exploring ways to lift the income support available to researchers;
development of a scheme to place public sector researchers in small to medium-sized businesses.
"Innovation equates with skills," Senator Carr said. "We need people who can create new knowledge, people who can disseminate that knowledge and people who can put it to use. The most important institutions in this process are our universities."
He praised the initiative of VU in providing 21 research fellowships to early-career academics over the past two years.
Deputy Vice-Chancellor (Research and Region) Professor Linda Rosenman said the support of the University Council, which had earmarked $15 million for research development three years ago, had provided the impetus for the Fellowship scheme.
"This has enabled us to develop a research strategy which identifies our key strengths and builds upon them with programs such as this Fellowship scheme," she said.
Professor Rosenman said the key areas of research strength were:
Sport, Exercise and Active Living
Communication and Sensor Technologies
Diversity and Wellbeing
Sustainable Environmental Technologies
Tourism
Logistics and Transportation
Applied Informatics
Strategic Economics
Vice-Chancellor Professor Liz Harman said that VU's approach to research was different to some more established universities.
"Our research is always relevant to the region of western Melbourne or to areas of key significance nationally or internationally," she said.
"We are also using our research capability to enhance links and support for further education and vocational education, as well as higher education."
She cited the example of VU's Work-based Education Research Centre, which aims to build world-class innovation in vocational and work-based education.