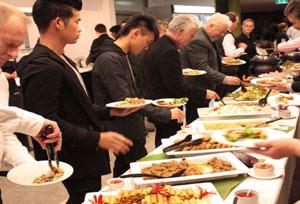 A recent dinner event organised by VU College's Steph Ellis raised $8,500 for Hands Across the Water (HATW). This Australian Non-Government Organisation was established to look after children orphaned by the 2004 sunami in Thailand.
The money raised will fund a visit by two teenage orphans from the Baan Tharn Namchai orphanage in Thailand to Melbourne. They will also have the opportunity to experience trans-national education at VU.
The event, held at Sunshine Convention Centre, also offered a Learning in the Workplace and Community (LiWC) opportunity for more than 50 VU students from across VE and HE. This included:
8 culinary students
15 VETis front-of-house students
12 HE front-of-house students
2 HE Events Management students.
Guests were treated to a sumptuous Thai buffet cooked and served by these VU students. Entertainment was provided by Thai dancers and guest speakers. The event was also a celebration of contributions made by the many English language teacher volunteers who teach at Baan Tharn Namchai orphanage and at Baan Baan Mouang school.
A live link-up to the orphanage provided a direct connection to some of the children and a chance to meet other supporters, including Daniel Murray. Daniel, Steph and another 36 riders were part of a fundraising event earlier this year where they cycled 800km through Thailand. They raised nearly $400,000 to fund current HAWT projects including the development of a communal training facility in Phang-Nga, an area devastated by the tsunami.