Thursday 13 February 2014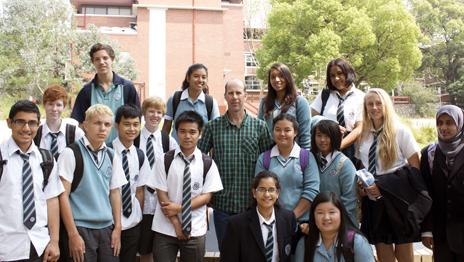 Hundreds of western suburbs students from the AVID Australia program participated in an interactive workshop conducted by famous adventurer Troy Henkels on Tuesday 11 February at Victoria University's Footscray Park Campus.
Local AVID participants came from Wyndham Central College, Williamstown Secondary College, Kurunjang Secondary College, and Victoria University Secondary College.
Troy Henkels is an accomplished mountaineer, paraglider, mountain biker, kite surfer, musician, and photographer. He is also a published author and journalist who grew up on an apple orchard in Iowa, USA.
Troy conducted a university-style workshop with AVID students and let them know that they too can pursue big dreams.
Troy talked to the students and showed videos and images of his adventures. At points along the way he posed questions for the students to problem solve about how to get out of challenging situations.
Troy was very impressed with the standard of questions asked by the students, and if he had one strong message to get across to them it was that they should to go to university no matter how difficult it might seem. To complete a university course would give students the problem solving skills they need and allow them to fulfill your dreams.
AVID – advancement via individual determination – is a renowned university-readiness system, developed in the USA to equip low SES and under-achieving students with the academic, social and emotional skills to access and complete a university education.
The Victoria Institute at Victoria University, supported by Higher Education Participation and partnership program (HEPPP) funding is leading the implementation of this program in Australia.
Victoria Institute, Associate Director, Claire Brown said, "AVID is effective in improving the educational outcomes of students from diverse and disadvantaged backgrounds. It also strengthens their organisational, emotional and social skills. This holistic approach is central to the program's success.
"Troy's presentation was inspirational for AVID students," she said.