The event, held at Victoria University (VU) City Flinders campus on 30 March, formally acknowledged 76 students from the faculty for their outstanding academic achievements and performance in 2009.
After accepting the major award of the night, Julia spoke about her experiences and the demands of being a mature age student at VU. She has just started her graduate year at St Vincent's Hospital, and hopes to commence as a postgraduate research student in 2011.
Dominic Lai, Managing Director of Umow Lai was guest speaker. He gave a wonderful occasional address where he spoke about his life as an engineer and the many professional and personal challenges he has encountered. VU is proud to have Domenic Lai as one of its Alumni.
The event was attended by award recipients along with their family and friends, VU and Faculty staff, industry guests and award sponsors.
We congratulate all the students who were recipients of the awards, with a special mention to all the staff in the
Faculty of Health, Engineering and Science
who were involved with the students in the delivery of their learning needs and support.
You can view the list of students and their
awards
.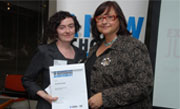 Executive Dean Professor Michelle Towstoless with Julia Mary Nolan