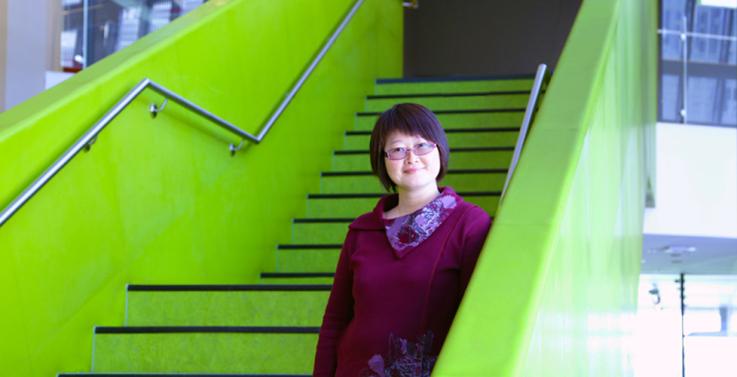 Dr Xiaoxia Yin (Sunny) aims to be a leading expert in the field of e-health and believes Victoria University is where she will achieve that.
The ambitious early-career researcher began an industry postdoctoral fellowship at the Centre for Applied Informatics (CAI) in July, working with leading e-health expert and Centre director Professor Yanchun Zhang.
She says the Centre's reputation in the field was a major drawcard.
"I heard of the CAI's international reputation in e-research and was very interested in moving to an institution like this that prioritises good research practice in medical image data analysis, pattern classification and data mining.

"Since coming here I have discovered precisely how fantastic the research environment is - every week we have group meetings to discuss progress on our research, as well as weekly seminars where someone in the Centre presents a research technique we have mastered and think others might benefit from."
Sunny says the productive research environment, which along with the Centre's strong research and international connections open up so many possibilities for her.
Her own project involves taking massive amounts of hospital data on diabetic retinopathy – a leading cause of blindness in Australia – to develop automated screening programs. The research involves data sampling and advanced pattern identification algorithms, such as extreme machine learning for real-time medical data analysis and processing.
She believes the Centre's research environment will teach her much about the field, but also brings her own insights into cutting edge research from previous positions at the University of Melbourne and University of Adelaide, as well as stints at Cambridge and Reading in the UK.
Sunny was originally from Dalian ­– a coastal city near Beijing in China – which she says is quite similar to Melbourne. She moved to Australia nearly 10 years ago for PhD studies at the University of Adelaide and eventually became an Australian citizen. Before graduating, Sunny had already successfully applied for an Australian Research Council's Postdoctoral Fellowship and was employed at University of Adelaide in 2009.
In her brief research career Sunny has already published one book and 23 academic journal and conference articles, many in high quality international journals and as first author for nearly all of them.
She says she has enjoyed the wealth of travel, cultural and academic experience gained from her career so far and is optimistic about her career ahead.
"The position here at VU is a great opportunity for me to enhance my career further. My goal is to be an expert at my position and start training to be a senior researcher."