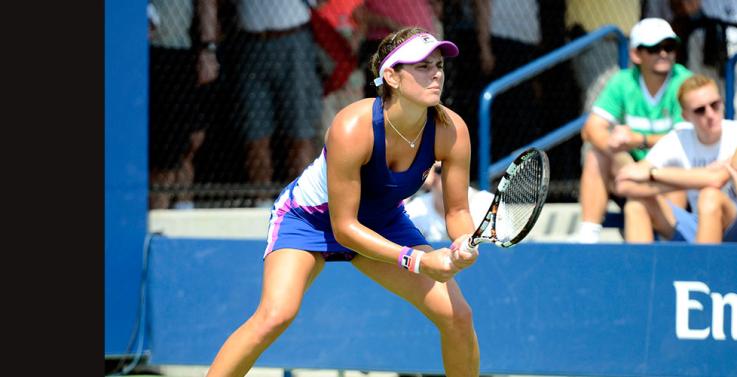 A detailed analysis of pro tennis player earnings shows a surprisingly small proportion is making money from the sport.
The recent International Tennis Federation (ITF) review - compiled by Tennis Australia, Victoria University and Kingston University - sheds light on the financial challenges facing developing tennis players.
Victoria University data analyst Dr Michael Bane said the average cost of being on the pro circuit – including flights, accommodation, equipment and coaching – amounted to around $160,000 per year. Yet of the 8874 male professional players in 2013, nearly half (3896) earned no prize money at all. In the same year there were 4862 pro women players, 2212 of whom earned no prize money.
"With rising grand-slam prize-money and better-than ever exposure, you might think that life's pretty glamorous for your average pro tennis player," Dr Bane said. "But a closer look at the numbers suggests you'd be wrong."
Research reveals many of those who did win prize money were not winning enough to cover tour costs, with only the top 160 men and top 150 women on the pro circuit turning a profit in 2013.
"There is actually a lot of money in tennis; totalling 162 million USD for the men and 120 million USD for the women," Dr Bane said. "What makes it so difficult for developing athletes is the way it's distributed."
It's estimated that the top 1% of the player group - men ranked top 50 and women ranked top 26 - received 62% and 51% of the entire professional prize-pool respectively in 2014.
"That's 97 million USD shared between the top 50 men, with the rest being distributed amongst everyone else. Yet even amongst the top 32 men, there is severe inequality in pay," he said. "In comparison AFL, golf and motorsports show a far less rapid decline in pay with ranking."
Of players surveyed in the study, 95% said their earnings through prize-money and sponsorship combined still did not cover their costs.
Dr Bane said if you couple these findings with the recently reported increasing time for male players to reach a ranking where you might actually earn a decent living (top 100), the problem may actually be getting worse.
"Athletes like Nick Kyrgios, who is almost two years younger than anybody ranked higher than him, are not the norm," he said. "It's now typical for athletes to spend up to seven years reaching profitable rankings, if at all."
Dr Bane said while there was little doubting the value of tennis' brightest stars, there did need to be some thought given to the viability of a tour where almost all the prize-money goes to a hand-full of people, who in some cases don't rely on prize-money to make to sustain their career anyway.
"Whilst it may seem counter-intuitive to reward players who "turn up and lose first round", the bottom line is if talent is lost simply because people can't pay the bills, the sport and fans suffer in the long term," he said.
The ITF will consider the report in March as part of a review of prize money structures and junior development pathways.