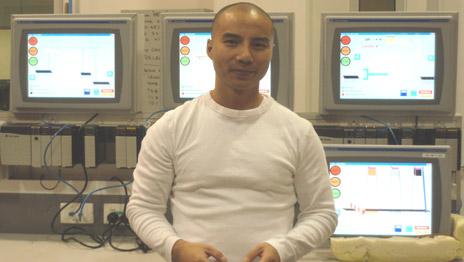 Victoria University student Ryan Santos is pursuing new career opportunities by gaining high level automation skills during his studies in the Advanced Diploma of Engineering Technology – Electrical.
After completing a degree in Chemical Engineering, Ryan spent five years working in the engineering field. While working in industry, Ryan identified a need for specialisation and he decided to focus his future on a career in Automation and Systems Control.
Automation is the use of control systems and information technologies to optimise productivity in the production of goods and delivery of services.
The Sunshine campus has an automation set up designed to scale. Using Allen Bradley CompactLogix and ControlLogix systems, FactoryTalkView and Citect SCADA environments means students are being training with the latest technology. The factory learning environment allows students to practise their skills without the risk of financially damaging side effects of learning in a live factory setting.
The tailored teaching plan and flexible classroom access attracted Mr Santos to VU for his automation studies. "The lecturers are teaching me what I need to know to succeed as an Automation Engineer. The smaller class sizes ensures I have a great deal of face to face time with my tutors."
Thanks to innovative students like Ryan Santos, the commercial and industrial landscape is changing with increased automation. Operators can control processes from any location ? the room next door, next suburb and in the future from a tablet on a beach in Bali.
Mr Santos is continuing his studies in Industrial networking and looks forward to joining a company as an Automation Engineering.
The School of Engineering and Industrial Training offers engineering courses from Certificate level through to Advanced Diplomas in Electrical, Mechanical, and Civil.
Contact our team for more information on studying Electrotechnology:
Phone: 9919 7140
Email: [email protected]