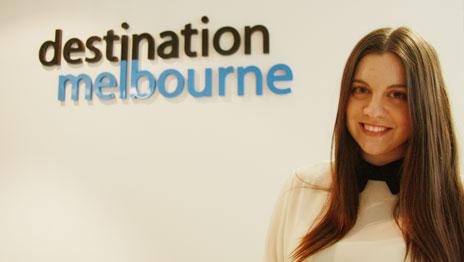 Experience means a lot for budding professionals in the tourism industry. For Victoria University final year Bachelor of Business student Emma Landolina, her experience is about to go global.
Emma has been awarded the 2014 International Congress and Convention Association (ICCA) Student Scholarship Award to attend the 53rd Congress in Antalya, Turkey on 1–5 November.
"This is an incredible opportunity for me to experience how the business events sector operates on a global scale," says Emma. "The ICCA conference is an incredible opportunity for me to expand my network and to pick brains of industry leaders."
The ICCA scholarship is available to high achieving students in the area of Event Management and Business Events. There was strong competition for the 2014 scholarship, but Emma's consistent grades and commitment to getting involved in the Industry was key to her success, says College of Business lecturer Martin Robertson.
"This is a unique opportunity for Emma to network with global Business Events leaders," says Martin. "She will be meeting 1000 leading experts in Business Event management from around the world."
Kellie Monger, Marketing Manager at Destination Melbourne where Emma works part time, is thrilled with Emma's selection to participate in the ICCA Scholarship program.
"The scholarship will provide Emma with valuable opportunities to increase her networks and exposure her to global trends and new opportunities. I have no doubt that Emma will be an excellent ambassador for Melbourne and Victoria University," says Kellie.
VU is the only university in Australia to have one of its students receive the ICCA scholarship this year. In addition to the ICCA Congress education and networking events, flights and accommodation, scholarship recipients receive personalised mentoring and behind the scenes briefings with ICCA Congress organising staff.
VU's Bachelor of Business (Event Management) and Bachelor of Business (Tourism ) are three-year degrees that teach students the skills to design, create, implement, manage and market events of all types and sizes.
Find out more about tourism and events courses at VU.
Emma will be sharing her experiences; we invite you to follow her conference blog