Wednesday 26 October 2011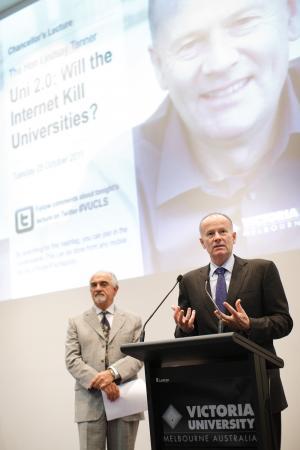 Universities that don't respond to the opportunities of interactive online learning will lose students and die, says Victoria University Vice-Chancellor's Fellow Lindsay Tanner.
Delivering his Chancellor's Lecture at the University last night, Mr Tanner said: "The university's traditional role as creator, curator and distributor of knowledge is under direct threat from the internet."
"When information technologies change, even the most entrenched institutions can be overturned."
Despite the advances in web 2.0 technology, universities had been slow to take up the internet's latest possibilities for interactive, collaborative and creative learning, he said. These included blogs, wikis, podcasts and "haptic" or tactile technologies that allow teachers in "physical" professions and trades such as medicine, nursing, engineering and hairdressing to interactively guide students through procedures.
Most university lecturers were doing little more than replicating face-to-face teaching with online recordings and lecture notes.
"There's been an awful lot about 'e' and not much about 'learning'. Plenty of tech, very little ped.
"The digital revolution doesn't just demand that we change our delivery systems: it's forcing us to rethink teaching and learning too."
Mr Tanner said that progress in e-learning at Victoria University was mixed, but no better or worse than others.
However, attention had been more heavily focused on the technology rather than the teachers and students using it.
"Fixing the technology's important, but so is changing pedagogy. So far, VU's efforts in this area have been modest."
Higher education in Australia was about to be hit by structural forces that would "turbocharge" digital change.
These included the National Broadband Network that would lead to a "learning explosion" and increased enrolments as the deregulated funding system kicked in next year, allowing more students to take up university places.
The third factor was the emergence of a "new kind of customer in higher education, one that's less tolerant and more demanding".
"The students of tomorrow will be born digital: they'll have known nothing else but the web 2.0 world. They'll want to be entertained as they learn. They'll demand instant feedback.
"Put these three trends together and the implications are clear. More demanding customers in a more demand-driven system largely liberated from previous technological constraints. If ever there was a prescription for fundamental change in higher education, this is it."
Full transcript of the lecture "Uni 2.0: Will the internet kill Universities?"