The 3As Roundtable was timed to coincide with the visit to Melbourne by a delegation for the University of Texas El Paso (UTEP), a VU partner in programs to improve education participation, success and services to a range of students from diverse social and economic backgrounds.
Highlights of the roundtable included:
A presentation from Professor Peter Dawkins, Secretary of the Victorian Education and Early Childhood Department and Vice-Chancellor elect of VU, who spoke of the need to establish a firm evidence base for evaluating initiatives that aim to improve aspiration, access and achievement in tertiary education
A progress report from Dr Donna Ekal of UTEP, on the success achieved by UTEP in working with schools and community colleges in encouraging participation and success in higher education
An overview from Dr Stephen Riter of UTEP of the student tracking measures from kindergarten to tertiary education used by UTEP to provide evidence in support of participation initiatives. (Student tracking will begin in Victoria next year)
A presentation by David Hazlehurst, newly appointed Group Manager, Higher Education in the Commonwealth Department of Education, Employment and Workplace Relations, who provided an overview of the federal agenda for social inclusion and tertiary education
Vice-Chancellor Professor Elizabeth Harman said at the conclusion of the roundtable that VU was a leading practitioner of support and intervention programs to encourage students of all ages to aspire to a university education and to complete their studies successfully.
"We have some of the best teachers and support programs of anywhere in the country in this area, but there's plenty of room for improvement," Professor Harman said. "If we are to lift participation nationally, we must be better informed about what we are doing well, and where we can do better.
"The community program developed by UTEP has been well supported by state and federal governments in the United States. We look forward to similar support here in Australia.
"This week's roundtable has been a wonderful opportunity to learn from the experiences of our colleagues from universities and schools around the country and from the rich history of engagement in this area by UTEP."
You can hear further details of the roundtable on Lectopia.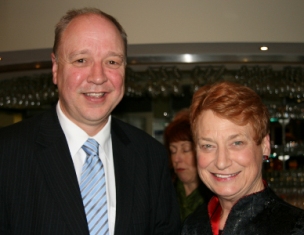 Professor Peter Dawkins with Professor Elizabeth Harman at the roundtable