Wednesday 5 December 2012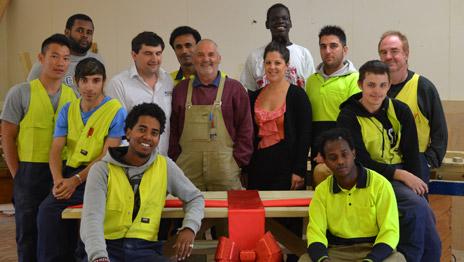 Education is a gift that keeps giving. This December, Victoria University's (VU) School of Construction Industries has taken this literally with the presentation of four picnic tables to the Brotherhood of St Laurence (BSL).
VU is supplying the training component for the BSL 'Given the Chance Workforce Solutions' program. 'Given the Chance' is a training and employment program that provides disadvantaged job seekers with the support they need.
In 2012, 19 students from a range of backgrounds, have been completing a Certificate I in Construction. The 7 week course has given the students basic skills in building and construction, preparing them for positions within the construction industry. The final class project was to craft the four picnic tables which BSL plan to use in their fund raising activities.
"It has been a fantastic partnership between Victoria University and Brotherhood of St Laurence." says Stephen Murphy, Employer Engagement Manager, BSL. "The people on this project would have some difficulty obtaining employment in construction because they have little experience or background in the industry. This sort of training is fantastic to get people into a job. The training is all about preparing for work. Without the skills the students have learnt in this course they would have had some difficulty in finding employment in the field."
Teacher of carpentry and joinery at VU, Daniel Bonnici said,"This group is a real reflection of the cultural diversity in Victoria. These students come from a range of diverse backgrounds and it's a delight to watch the friendships forming across cultural and age boundaries. As a group, they work harmoniously and are diligent about completing their learning tasks.VU is really pleased to be participating in such a positive program."
Stephen Varty, Acting Head of School Construction Industries is impressed by the quality of the finished product. "The quality of what they have made is outstanding.It's high quality garden furniture. This program really shows the dedication of our teachers and the motivation of the students.You can see the students are really proud of what they have achieved."
Certificate I in Construction is an ideal start to a career in the construction industry. The course teaches an array of practical skills and knowledge for the construction industry. For more information on studying at Victoria University please contact us.
Victoria University
Ph: +61 3 9919 6100