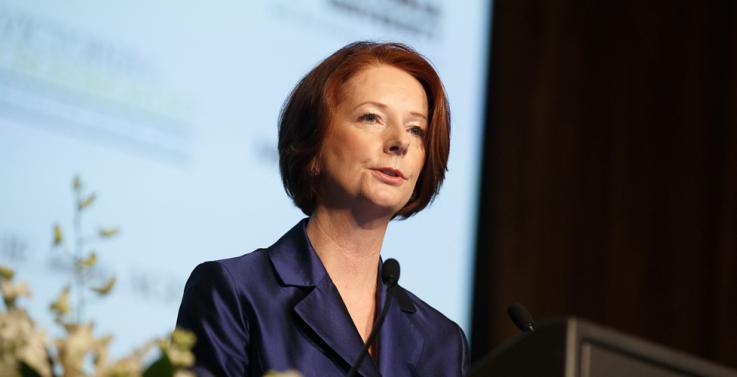 Some of the nation's most respected economic leaders, policy thinkers and industry representatives, came together to canvass Victoria's economic prospects at the Victoria at the Crossroads? Conference on 23-24 August 2012.
Delivering a speech at the conference, The Prime Minister, The Hon Julia Gillard said, "Victoria has done so much to position itself as a smart economy that builds on its most precious resource – its people."
She said that education and training were powerful and transformative.
"Low-skill roles will only make up seven per cent of new jobs over the next five years. The future belongs to well-trained workers in well-managed firms, using the latest technology and supported by high-quality enterprise agreements. The economists call this human capital.
"ABS data shows a person with a Certificate III level qualification or higher earns, on average, at least 10 per cent above the weekly wage of people without those qualifications. In some cases, they could earn up to double. NATSEM modelling shows university graduates earn 70 per cent more over their lifetimes than someone who only finished Year 12.
"Educational disadvantage is a human failure and an economic failure.
"Some of the problems that students face in post-school education also have their origin in earlier years. Young people lacking basic skills for work or traineeships; Apprentices who drop out before getting their ticket; and Students who need remedial teaching in first year at university.
"I think about the people in the region I represent, where education equals emancipation. Without skills, a storeman in Werribee can't get a job in the mines. Without a decent school education, his daughter can't get one of our new places at university. If we get schools right, we can get skills right."
The need for education was strongly endorsed in the wrap up of the conference.
Professor Rod Maddock, Vice-Chancellor's Fellow, Victoria University said that in Victoria we "need an adaptable workforce that is highly skilled and can move across sectors".
He said, "We need to think about the skills set in Victoria."
Mr George Pappas, Chair, Committee for Melbourne and Chancellor, Victoria University said that a safe bet and less of a gamble for Victoria's economic future was investing in intellectual capacity.
He said that the Committee for Melbourne had long supported the Higher Education sector and believed that Melbourne should be a destination of choice for international students.
He said that Victoria needed the "best higher education, secondary and vocational education we can offer".
"We can export some of those skills to Asia. Victoria still has a good reputation for students who come here and for delivery of education overseas. To make it all work we need the best educational investment that we can afford."
Professor Peter Dawkins, Vice-Chancellor, Victoria University said that the University wished to make a big contribution to knowledge exchange particularly to do with Victoria; findings coming out of the conference would include a research agenda – and some of the relevant research needed could be undertaken by the University's research centres.