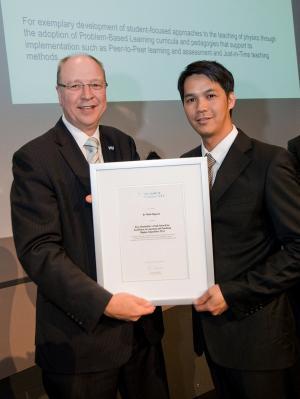 Thinh Nguyen was voted Best Lecturer by first year engineering students this year for good reason - many of them owed their success to his initiatives to improve their classes and their results.
During the past three years, Dr Nguyen has developed peer mentoring programs, problem-based learning exercises, overhauled curriculum and developed new ways to engage students in their assignments. He teaches engineering, physics and photonics in the School of Engineering and Science.
In one exercise he borrowed an idea from the TV hit MasterChef. Students are given set pieces of equipment in class and asked to perform tasks using only the available resources. No instructions are provided, which means students must understand the problem fully to achieve the desired outcome.
All the evidence points to his interventions being a roaring success:
Failure rates are down by 20%
Pass rates for mentored students are 32% higher than their previous efforts
Average marks for mentored students are 15% higher than the marks of others
Attendance rates in his classes have risen