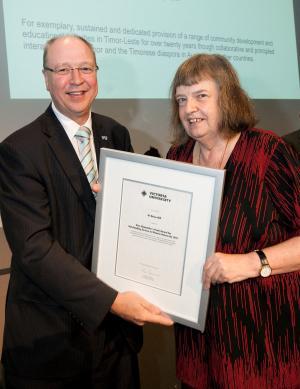 For more than 20 years international development lecturer Dr Helen Hill has been working with the people of East Timor on education and capacity-building.
Last night she received the Vice-Chancellor's Peak Award for Outstanding Service to the University in recognition of her long-standing efforts.
Dr Hill has visited East Timor many times since 1991 - long before independence from Indonesia was granted in 2002. She has worked with locals on many projects, including the establishment of community development programs at the National University of Timor-Leste (UNTL).
She led VU delegations to observe national elections in 2001 and 2007 and has twice organised study tours to VU in Melbourne for East Timorese academics and higher education managers.
Her work led to the signing of a Memorandum of Understanding between VU and UNTL in 2005. The links between the two universities have grown over the years to include:
Regular study tours of East Timor by VU staff and students based in Melbourne
A study unit at VU called Timor-Leste: Politics, History and Society
The establishment of the VU East Timor Working Group
Formation of the East Timor Students Association at VU
The Victoria University Foundation East Timor Scholarship Fund
Regular conferences and seminars