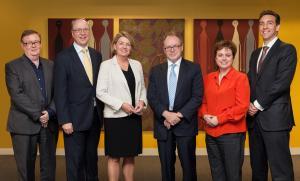 The latest seminar in the Controversies series: New universities for new times? presented a range of views around the possible future of universities.
Vice Chancellors, Professor Peter Dawkins from Victoria University, Professor Jan Thomas from the University of Southern Queensland and Professor Stephen Parker from University of Canberra joined Justin Bokor Executive Director, Ernst & Young and author of the paper 'University of the future' for a lively panel discussion hosted by The Victoria Institute and the Office of the Vice Chancellor at Victoria University.
Anna Bligh, Former Minister for Education, Queensland Premier served as moderator for the evening, and shared her own views and experiences on this hot topic.
A number of audience comments and questions were well received by the panel members, and contributed to a very engaging and provocative discussion. It was good to hear the views of such a wide group of participants including over 150 guests from schools, government, and the community who attended the seminar.
The recording for this seminar can be accessed via lectopia. The seminar brought this year's Controversies series to a close. Four successful seminars were held in 2012, to re-cap these, we had 'Re-learning your gig' with Clare Bowditch and John Watson back in May, 'What happened to the concept of a fair go for all?' with guest speakers Chris Sarra and Andrew Boe in February and 'Indigenous Futures in July'. The transcripts and recordings for the previous seminars will be available soon.
Next year's Controversies series promises to continue hosting a wide range of prominent guests and conversations as we continue to promote conversations around hot social policy and education issues.
Michael Kirby (Lawyer) will join us as a guest speaker at one of next year's seminars with other exciting guest speakers and topics to be announced early in 2013.
We invite you to keep an eye on The Victoria Institute's website or send your email address to [email protected] to receive an update about future seminars.