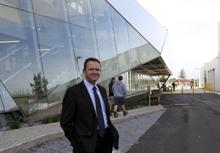 Peter Jacobson, Director of Training from the Trades College has been awarded the 2013 International Building and Construction Fellowship.
The fellowship was awarded through a competitive national process that included an interview by a selection panel, including the Fellowship sponsor, industry representatives, and members of ISS Institute's team.
The scholarship is a joint venture between the Construction and Property Services Industry Skills Council (CPSISC) and the International Specialised Skills (ISS) Institute.
The aim of the $12,500 Fellowship is to promote the acquisition of higher-level skills and an appreciation of international best practice in the Australian building, construction and property services industries.
It is intended to examine innovative approaches that demonstrate potential benefits for, and application in, Australia.
Peter aims to reinvigorate VET in the building and construction industries through the study of apprenticeship education practices across Europe, particularly Germany who has a high participation rate in apprenticeships.
The research will also contribute to the University's ambition to become a centre of excellence for vocational education through the Trades Academy, and identify new ways to optimise the new Building and Construction facility at Sunshine Campus.
"It's fantastic news and I'm very excited that VU will gain more recognition for its trades programs. This will be a good opportunity to see how student mentorship models in trades training and retention strategies are done in other countries, and what we can learn from them," says Peter.