The theme is still 'The System' but we are expanding our regular sections to include:
Letters to the editor: Let us know about what is happening on your campus (50 words)
U-

ssay

it: The essay is back! (1500 words)
In retro: Anecdotes, articles and images from VU.
Alternatively, you can contribute to one of our regular sections:
Letters and Opinions: respond to previously published work, comment on a current issue, or just have a good whinge about something (200 words).
Around Uni: Write about VU'events, services, faculties, internship programs, history, anything!
Student Success stories: know anyone whose taken off from the VU launch pad? Interview them and let us all know what they're up to and how they got there.
Reviews: give us your take on a record, book, live performance, festival, venue, sporting event, etc. You can either borrow material to review from us, or fond your own.
To find out what material is available to borrow or to submit your work, please email seedmag@live.com
Guidelines:

SEED avidly seeks contributions from all students across all VU Faculties. All submissions must be received by August 15. If you wish to advertise in SEED, submissions must be received by August 15.

Articles
Format: Times New Roman, 12pt, single space
Article word count: 1500 words (flexible for essays)
Reviews, Letters and Opinions word count: between 200-250 words
Any picture you wish to submit with articles will be considered, and should conform to the requirements below.
Artwork
High resolution digital photo or scan minimum of 300

dpi

.TIFF and .JPG file format
File title to include a brief description of work
All email submissions must have a title and author name in the subject field. In addition, title, author name and contact details must be included in any article, review, poem or artwork.
Writers/illustrators will be notified via email as to whether or not their work has been selected for publication. Submissions will be edited and you may be contacted by an editor throughout the process.
Contact Us
For any and all enquires, suggestions, questions and submission pitches, please contact us at seedmag@live.com
SEED Team
Tarryn Reid, Managing Editor
Fiona Browning, Editor
Remo Pitisano, Editor

Mail:
SEED Magazine
c/o VUSU Footscray
PO Box 14428
Melbourne City Mail Centre
VIC 8001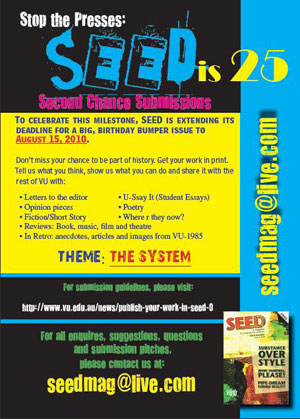 SEED magazine is 25!