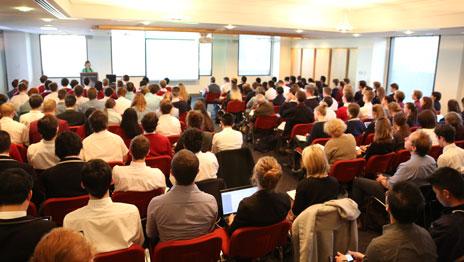 Students from Melbourne high schools attended a special debriefing of the Abbott Government's first budget with VU's College of Business' Centre of Policy Studies (CoPS), an independent research think-tank that is well known for its research for governments and businesses across the world.
The event, organised in conjunction with the Victorian Commercial Teachers Association (VCTA), was designed to explain the recent Federal Budget in the context of the students' economics studies.
More than 160 Year 12 students from schools across Melbourne including Strathmore Secondary College, Taylors Lakes Secondary College, Fountain Gate Secondary College, Camberwell High School, Casey Grammar School, and Caulfield Grammar School heard from Dr Janine Dixon, a senior research fellow at the CoPS who shared her insights into the economic principals of the budget papers, and deciphered its graphs and equations.
Dr Dixon explained the relationship between the budget and such key economic concepts as forecasting, population impacts, GDP, and terms of trade. She also discussed important changes in the new budget and whether it was indeed an 'emergency budget' as declared by the current government.
The students were encouraged to consider the impact of the budget on their standard of living. Dr Dixon reminded them that although a return to a surplus budget can cause pain in the short term, a strong budget is an insurance against recession and other economic difficulties.
Students with an interest in economics or finance may wish to consider one of our College of Business degrees. Learn more about our courses