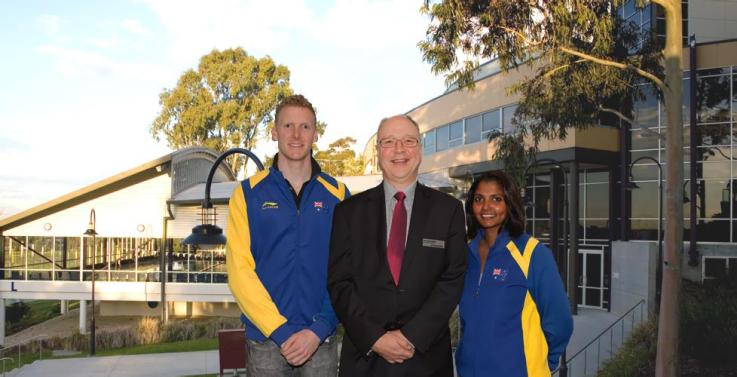 Victoria University celebrations are in full swing acknowledging our elite athletes who are attending the London Olympic games. The VU Aquatic and Fitness Centre is festooned with balloons, streamers and photos.
In recognition, Vice-Chancellor, Professor Peter Dawkins held a meet-and-greet at Footscray Park with current and former VU students who will be competing in London and in other events on the international sporting calendar in 2012.
Renuga Veeran, who is studying a Graduate Diploma in Secondary Education, is representing Australia in the Badminton Women's Double. Ross Smith, who is studying a Bachelor of Exercise Science & Human Movement, is in the Badminton Men's Doubles. Ross has competed at the 2006 Commonwealth Games and the 2008 Beijing Olympics, and for Renuga, London will be her Olympic debut.

Also making his Olympic debut is VU alumnus Ivo Dos Santos. After placing first in the 2012 Oceania Judo Championships in Cairns earlier this year, Ivo's ambitions were realised when he made the Olympics team. VU Olympian alumnus, Tarren Otte, will be competing in synchronised swimming.
Another alumnus, Chris Erickson who competed in Beijing in 2008, has been selected for the Men's 20Km road walk.
VU alumnus, 2009 graduate, Daniela Ditoro is a paralympian competing in wheelchair tennis. She also competed in Atlanta 1996, Sydney 2000, Athens 2004 and Beijing 2008.
There are also a number of current students competing at major international championships this year, including Gregory Farrell who is an Ironman Triathlete set to compete at the 2012 World Ironman Championships in Hawaii.
Victoria University recognises the challenges of combining elite sport with an academic workload which is why the University is a member of the Australian Sports Commission's Elite Athlete Friendly University (EAFU) Network.
Our elite athlete support program aims to help students balance study with training and competition demands, by providing them with access to support and special study arrangements, including:
alternative exams
assessment deadline negotiations
timetabling assistance
cross-institutional study assistance.