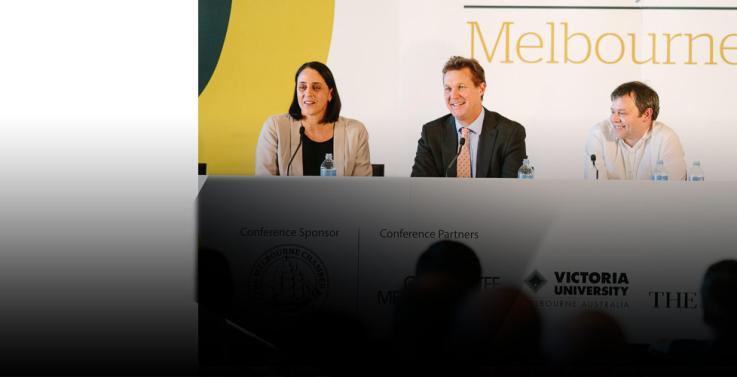 A formal push to government for compulsory sport in schools, more on Melbourne's Olympic bid and improving Victoria's contribution to Australia's next Olympic gold medal tally were three of the major talking points from the two day Sport in Victoria –'who's really winning?' conference, hosted by Victoria University.
Discussion was headlined by industry experts from sport, tourism and education and created, at times, heated debate, with topics including:
visions for the future of sport in Victoria, including a formal approach to the government to make sport compulsory in all schools
major events and the economic and social impact of sport
fair sport, including drugs, ethics and science
cause and effect, and the balance of focus between elite sport and community participation
winning edge and Australia's Olympic gold medal tally.
President of Geelong Football Club, Colin Carter, called on the Victorian Premier to make sport in schools compulsory. His view was that schools are crucial to so many areas of sport and health future. Carter who was part of the Crawford Review into Sport in 1999 still retains the view that there is limited evidence that proves elite sport translates into greater community sports participation.
Certainly, the call for compulsory sport in schools gained momentum throughout the conference discussion, and a formal approach to government by a united sports collective seems imminent.
Andrew Westacott, CEO of Australian Gran Prix Corporation returned serve on Western Bulldogs President Peter Gordon who earlier questioned whether F1 was even a "sport' in analysing the impact of major sporting events in Victoria. Westacott has arranged for Gordon to sit behind Mick Doohan on a lap around Phillip Island and have a ride in a two seater at Albert Park to see if he still feels the same way about Gordon's claim that, "You just take a seat and press a button."
Westacott backed Committee for Melbourne's call for a Melbourne Olympic Games bid from earlier in the conference saying, "What we can do is stage events and we stage them better than any other city in Australian without a doubt, and as good as any city in the world."
"And that's a competitive advantage that we have in very, very tough economic times," continued Westacott.
Tourism Australia CEO John O'Sullivan described major events as a significant driver of visitor demand and tourism spending with the statistics showing, "Event visitors stay 30% longer, spend 30-40% more per trip and are more likely to stay in paid accommodation as opposed to visiting friends and relatives."
O'Sullivan also highlighted the ambassadorial benefits of hosting major events in an economic sense and using sport as a diplomacy.
Conversation quickly shifted up a gear during the 'Can You Win Fair?' discussion.
Chief Football Writer of The Age, Caroline Wilson, cited the Geelong and Carlton football clubs as examples of the good and bad of fair play.
She commended Geelong's rebuilding process in saying, "Not only can you win fair, but how much better it is for you if you do win fair, " before taking a swipe at Carlton's "systematic" and "blatant" cheating and the fact that they got caught.
On the current Essendon Football Club saga Wilson had even stronger words.
"This is a dream team of coaches, but it was also a regime born in deception. It started out with lies and I believe in the end it's going to bring them down. This will haunt the club for many, many years," she said.
Richard Ings, former CEO of ASADA spoke about issues of risk management, motive and opportunities for athletes to dope, and the enormous economic impacts of doping with the ongoing AFL investigations costing up to 15 million dollars.
There were no shades of grey for President of Athletics Australia David Grace QC, in stating, "There is no excuse for any athlete to take a substance without being 100% sure that the substance is approved and is not contrary to any anti-doping policy."
During the afternoon session 'The Way Forward for Victoria', the key theme of discussion was whether money should be spent on elite or community sport.
John Wylie AM, Chair of the Australian Sports Commission reiterated the role of elite sport in encouraging and incentivising the community. As a percentage of overall funding, he said the allocation to elite sport vs grassroots is 60:40.
CEO of Netball Australia, Kate Palmer, said that netball is focusing equally on both elite sport and grassroots sport, and that the challenge is the connection between the two. She's found that young girls don't aspire to be sports stars because they don't hear from female sports stars enough, which the sport is trying to address via the Australian Diamonds.
Wylie highlighted athletics, as the only sport in Australia in which the grassroots and elite programs are governed by separate bodies.
Victoria University will continue their leading role in sports issues and affairs after the conclusion of today's two day conference, with the Victoria University Sport Dinner their scheduled for Monday 25 August 2014 at the Hilton on the Park.
The focus for this event is a celebration of women in sport - the dedicated, the elite and the inspirational. Layne Beachley, arguably the most successful female surfer in history, is the keynote speaker, and will be joined by distinguished VU Sporting Alumni, and other guests.
Read more about the Sport in Victoria - Who's Really Winning conference and listen to recordings of the panel discussions.