Tuesday 23 September 2014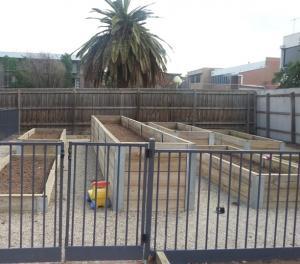 A new community garden and research project to bring together migrants and their neighbours around healthy food is opening in Footscray.
The Footscray FOODpath project is a new collaboration between the African Australian Community Centre, Victoria University and other community partners.
Victoria University food expert Dr Isabelle de Solier said it recognised the central role food played in health, economics and social connections.
"It's called the Footscray FOODpath because it's about creating a pathway to food security, health and nutrition, skill development, community connection and social inclusion," Dr de Solier said. "Food is something that brings people together. Everyone eats, and food is a great way to learn about other cultures."
There is currently no community garden in Footscray, while levels of food insecurity are almost twice the Victorian state average in this area.
"We know that those members of the population most at risk of food insecurity include refugees, asylum seekers, and people from culturally and linguistically diverse backgrounds," she said.
The Footscray FOODpath is located at the African Australian Community Centre at 32 Pickett Street in Footscray. It is targeted at African refugees and asylum seekers, but is open to people of any background.
There will be a public 'meet and greet' event on Thursday 2nd October between 10am and 12pm with food, drinks and the first plantings at the Pickett Street site
The African Australian Community Centre will contribute the grounds, the garden beds, water, personnel, and community connections to the project.
Victoria University will contribute skilled labour in terms of community development, as well as students who will help run the garden, work in the garden, conduct working bees, and deliver workshops to community.
Dr de Solier plans to conduct research on the diverse impacts the community garden has on the people who use it in terms of physical and mental health, community wellbeing and social connection, household food security, food literacy and the production and maintenance of cultural identity.
Foodbank Victoria, Cultivating Community and the CityMaking Collective are also supporting the project and will deliver workshops on gardening, composting and healthy eating. These interactive workshops aim to educate and build confidence in hope that community members gain experience to implement skills and knowledge into their everyday lives.
Dr de Solier said the project had strong support from partners and community members but still needed further funding for other essential materials and equipment such as soil, plants and tools. You can help them win a grant for this by voting for the Footscray FOODpath project in the government's Back to Earth project competition here:
http://competitions.backtoearth.vic.gov.au/entries/footscray-foodpath/
Voting closes on Sunday 5 October.