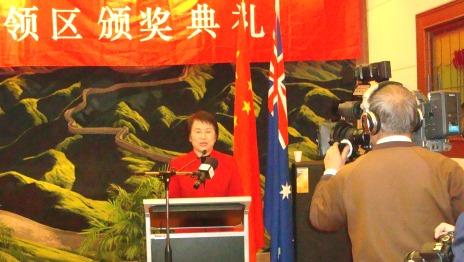 A Victoria University PhD student has been awarded for his academic and research achievements by the Chinese Government.
The Outstanding Self-Financed Student Abroad prize went to Victoria Law School 3rd year PhD student Yongqiang Li in a ceremony at the Chinese Embassy in Toorak, May 15. He was one of 38 Chinese PhD students in Australia to be recognised.
Li's PhD is on governance, regulation and performance of small corporations in Australia. Supervised by Professor Anona Armstrong AM and Professor Andrew Clarke, Li has already co-published a research report, three journal articles and more than a dozen conference papers, including one paper published in Economics Letters.
"This recognition for me as a Chinese research student studying abroad and recognition for Victoria University's excellence in research training and supervision is a great honour," Li said.
Li said the award had spurred him on and would hopefully open doors to him and his team.
"It's given me more confidence with my research, which provides enormous impetus for me to finish my thesis on time and to optimise our research impacts," he said. "Also, as awardees are recorded into the Chinese national talent system it establishes a bridge for our team to collaborate on research projects with Chinese partners, opening more doors."
Li is an Australian Postgraduate Awardee (Industry) (APAI) actively involved to an ARC Linkage Project on developing a responsive regulatory system for small corporations in Australia.