Wednesday 22 October 2014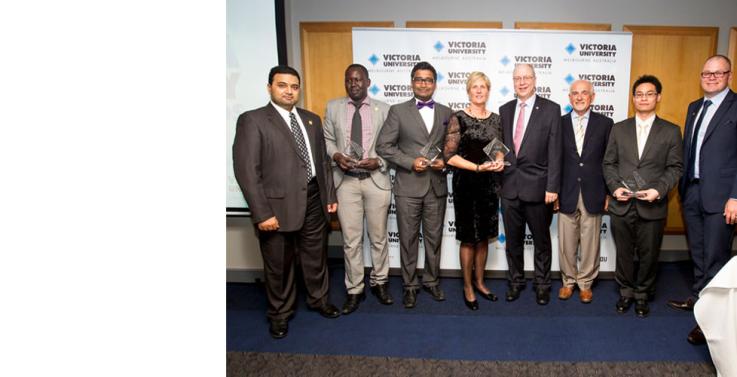 On Wednesday 22 October, the 2014 Alumni Awards celebrated the outstanding achievements of Alumni and students at the annual Alumni Awards Presentation.
In the four years since the introduction of the annual Alumni Awards program, exceptional Alumni have been recognised from a range of fields including business, local government, sport, health, law, education, telecommunications, media, and community.
2014 Award Recipients
Distinguished Alumni Award: Ms Deidre Anderson
Master of Arts 1999
Bachelor of Arts (Recreation) 1989
Deidre Anderson is currently the Deputy Vice-Chancellor, Students and Registrar at Macquarie University. She has demonstrated a lifelong commitment to supporting the development of young people, particularly those involved in sport and recreation. As a sports transition specialist, Deidre has been sought out and served as confidante and mentor to some of the world's best and highest profile athletes.
Deidre is currently President of Australian University Sport, President of Australian Women's Sport and Recreation Association and Director AUSRAPID, a national organisation increasing sporting and recreational opportunities for people with an intellectual disability.
She holds undergraduate and postgraduate degrees in Social Science, Psychology and Sports Management and is currently completing her PhD on Risky Drinking amongst Young Australians. She has also published widely in national and international peer-reviewed journals.
Deidre is a recipient of the Rotary Paul Harris Fellowship for her contribution to international relations, the Princeton International Business Leaders award and the Eunice Gill Coach Education award.
Outstanding Alumni Service Award: Mr Ahmed Saleh Alhajeri
Bachelor of Health Science (Paramedics) 2007
Following a serious accident and experiencing the pre-hospital healthcare system in the United Arab Emirates (UAE), Ahmed had a vision to improve healthcare in his country. He studied the Bachelor of Health Science (Paramedic) at Victoria University and after graduating in 2007 Ahmed returned to Abu Dhabi and played a pivotal role in the development of the UAE's ambulance service.
Ahmed is currently Deputy CEO of the National Ambulance Company, an organisation that aims to be the leading national provider of emergency pre-hospital care in the UAE. National Ambulance now serves all five of the Northern Emirates as well as Abu Dhabi, providing emergency healthcare to a population of approximately 70 million.
Through the dedicated work of Ahmed and his colleagues, the service is able now able to reach patients in remote areas, thus reducing response times and saving lives.
Outstanding Alumni Service Award: Mr Timothy Marchinton
Bachelor of Recreation Management 2007
Timothy is founder and director of Purple Soup, a unique internationally recognised organisation that offers challenging activity-based programs such as camps, day programs and hospital visits for children and their families affected by serious illness.
He developed the organisation in 2002 after realising that more than 75,000 young Australians affected each year by chronic illness were only partly being treated by health professionals who looked after their physical needs. Timothy melded theory with practice by running year round adventure therapy camps during his eight years of study. It was during this time he met the leaders of adventure therapy and worked toward his goal of creating camps for children affected by chronic illness.
Purple Soup runs programs in more than 40 countries and is recognised internationally for its creativity and programming excellence. Timothy has been awarded a number of local and international awards recognising the exceptional service that he and his organisation, Purple Soup provides.
Young Achiever Alumni Award: Mr Balendran Kandeban
Master of Business Administration 2010
Kandeban is currently Channel Head of Sri Lanka's number one Tamil language radio station, Shakthi FM. Over the past 12 years Kandeban has been a pioneer in the world of media, sales and marketing for Indian and Sri Lankan radio and television. Today he is more widely known as the host of the Sri Lankan game show 'Who Wants to be a Millionaire?'
In 2008 Kandeban was youngest Station Head of a leading radio station in India while completing his Master of Business Administration (MBA) at Victoria University; a testament to his energy and multitasking skills. He is known to be an inspiring corporate leader with high integrity and the ability to envision and create successful outcomes in complex business situations. He is also a motivational speaker, leadership trainer and the only Sri Lankan media professional on the Grand Jury of the New York Festivals.
In February 2014, Kandeban was recognised by the Australian Trade Commission (Austrade) as a winner in the category of 'Australian Alumni Excellence Merit Award 2014 for Business Administration' at the Australian Alumni Excellence Awards in Sri Lanka.
Young Achiever Alumni Award: Mr Samuel Manhom
Master of Business (Finance) 2012
Bachelor of Accounting, Banking and Finance 2010
Samuel currently works as an Accounts Officer for the National Sterling Group, however his journey has been one of hardship. As one of the 'lost boys' of South Sudan, Samuel was among thousands of young children forced to flee during civil war. He spent 12 years in refugee camps in Kenya from age 9 to 21, before he received an offer to resettle in Australia in 2004.
In Australia, he worked by day and studied at night. While Samuel completed a double degree in accounting, banking and finance and a Master of Business at VU, he never forgot his community in Rumbek, nor the countless South Sudanese children missing out on their own chance for education after 21 years of war.
Samuel is determined to make his dream a reality. Inspired by the education he received at Victoria University and the support of local and international Rotary, Samuel is raising funds to build a community primary school in his former hometown of Rumbek.
Outstanding Student Alumni Award: Mr Jirayu Mecksakul
Master of Business (Finance) and Master of Business Administration
Jirayu demonstrates integrity and consistently maintains high ethical standards through being an exemplary role model to other students and through his passion to help others. He has been involved in many extracurricular activities since he commenced his double Masters degrees at Victoria University in 2013. Jirayu's leadership ability and initiative saw him promoted to the President of Accounting, Finance and Investment Student Society (AFISS) in 2014.
As President, Jirayu has overseen an enormous growth in membership and created new engagement opportunities through social media. He also tutors small groups of students in the subject of Business Finance Through this role Jirayu has also established relationships between students and leading financial organisations to secure mentoring opportunities, career information sessions for students and financial sponsorship for AFISS.
Jirayu was a recipient of a Team Award as part of the Victoria University Student Leadership Awards in 2014.
Read more about the 2014 Alumni Award finalists.
Follow Victoria University Alumni on Twitter and Instagram #vualumni.