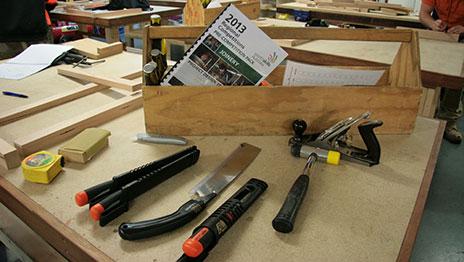 To coincide with National Skills Week, Victoria University's Trades College will be hosting a series of Regional WorldSkills Competitions.
The competition, known as the Olympics of vocational training, is the ultimate platform for apprentices and trainees to showcase their talents in over 50 competition categories including VETiS.
Steven Diberardino, a Schiavello joiner who recently completed his apprenticeship through VU, will be tackling the Joinery competition.
"The competition is a test of technique, I am focusing on the detail of the project," says the quietly competitive joiner. "I'm proud of my work and I'm looking forward to seeing how my skills stack up against my peers."
Carpentry and Joinery teacher, Nick Del Grosso, has been working closely with Steven and a group of Schiavello and industry apprentices to prepare them for the joinery competition.
"During the event the contestants are involved in skills tests that may not be part of their everyday work experience. They need to be able to read, interpret and implement drawings on the spot."
Medallists from this year's Regional Competitions may then be eligible to compete at the 2014 WorldSkills National Competition, where they will test their skills against Australia's best trainees and apprentices within their specialised skill areas over three exciting days of competition.
Bricklaying, Carpentry, Electrical, Engineering, Hairdressing, Joinery, Plumbing and Signwriting students will be participating in events during National Skills Week, including the Trades Expo on Saturday 31 August 2013.