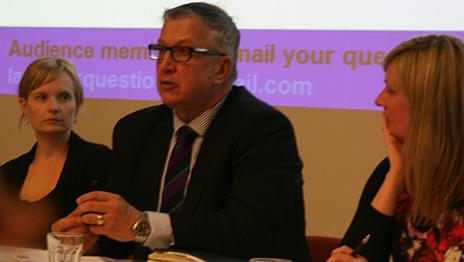 A packed lecture theatre at Victoria University's Sir Zelman Cowen Centre were gripped by a forensic examination of true crime investigation at Monday's 'How to get away with murder' panel discussion as part of Law Week 2015.
With the booked out event spilling into an adjacent theatre where the discussion was streamed live, this proved - beyond reasonable doubt - to be one of the stand out sessions of Melbourne's week-long law festival.
Comedian and current law student, Corinne Grant, played MC for the discussion in which Detective Inspector Michael Hughes from the Victoria Police Homicide Squad, Forensic Scientist Dr Rebecca Kogios, and Criminal Barrister, and VU Adjunct Professor, Robert Richter QC, dissected a 1994 murder case.
Named after the hit US TV show How to Get Away With Murder, Det-Insp Hughes was quick to quell any untoward ambitions lurking among the audience:
"We get approximately 57.4 murders a year, that's about one a week. Our solve rate in 2012/13 was 98.9 per cent ... If you think you've got away with it, I hope you're sleeping comfortably because one day we'll knock on your door and we'll take you away."
On Friday 16 December 1994, he received a phone call about a missing person. That missing person case soon turned into an investigation into the murder of Andrew Astbury, the background of which Det-Insp Hughes outlined for the audience before Dr Kogios explained the forensic process that helped to fill in the gaps and build a case.
It was in this case, while examining a bag of clothes found at the crime scene, that forensic investigation was revolutionised with the use of 'trace DNA'.
"Back then we didn't know that you could get DNA from what we call 'wearer DNA'. At the end of the day you take your clothes off, from the talking that you've done through the course of the day, the touching of your face and your skin, and the touching of your clothes - your clothes are absolutely riddled with your DNA," she said.
"It was my colleague Max Jones, when faced with this bag of clothing, that first thought to himself, 'Gosh, I wonder if it's possible to get DNA from something other than a big stain of blood or a big stain of semen? I wonder whether you could get it from touch?' and that prompted him to do a whole series of tests. Lo and behold, you can get trace DNA from clothes ... and that finding has really revolutionised my field, forensic biology. There's rarely a homicide case since that hasn't involved some kind of trace DNA work."
Robert Richter then stepped up to put forward a defence perspective on such a case, saying the suspect is not often an issue by the time a case comes to trial.
"The issue here is not who killed, but how, why and with what intent," Richter said.
"Intention is everything in homicide. Most homicides are not about who did what, they're about why it was done and with what intention ... I have had cases where it was a 'whodunnit?', but they are rare - very, very rare."
Richter later went on to make a persuasive case for the important role of defence lawyers, dismissing their portrayal in the media as people who get criminals off on technicalities.
"The notion of getting someone off on a technicality is usually a complete absurdity," he said.
For example, where the only evidence is a confession, Richter highlighted the importance of the defence lawyer so that the whole system functions properly.
"The role of the lawyer is to say: 'Was that confession extracted lawfully and properly? Or was it extracted contrary to the law?' Because if it was extracted contrary to the law there's a wider issue to be resolved, which is: at what price do we convict people? Do we do it by perverting the whole system, which is a whole structure of protecting all of you."
"We are not a system of justice as such - ultimate justice, ultimate proof - we are a system of justice according to the law, and the law is supreme."
Having given fascinating insights into the various, even seemingly competing, roles they played, the panel highlighted the ways they work together for an effective justice system. One that ensures no one - or almost no one - gets away with murder.