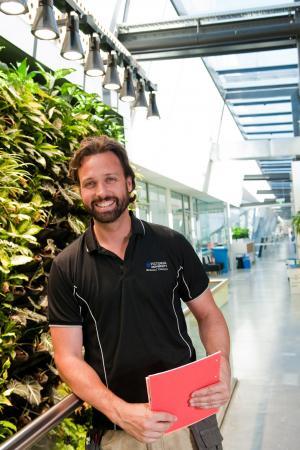 VU carpentry and joinery teacher Michael Hick is heading off to the northern hemisphere to investigate the latest in green retro-fitted building products.
The Trades College teacher at Sunshine Campus was awarded a 2013 Higher Education and Skills Group Overseas Fellowship ahead of applicants from across Australia.
Valued at $13,000, Mr Hick will use the money to travel to the US and the UK, and bring home what he learns so that new and innovative green building practices can be incorporated into VET training at VU. The next generation of local builders will then have the latest knowledge to create more sustainable and energy efficient dwellings.
"Being selected for a fellowship is a wonderful feeling," says Mr Hick. "As is being given the chance to investigate sustainability and retro-fitting on an international platform.
"It's a topic that has really started to take over the way I think about building practices; to work towards a more sustainable and environmentally friendly building Industry."
There is limited knowledge in Australia on sustainable retro-fitting and Mr Hick aims to find the best products and practices available that can be transferred to the Australian building and construction industry at minimal cost and time.
He will look at retro-fitted items such as windows, doors and cladding as well as investigate new building techniques for the installation of walls, roofs and floors in both residential and commercial buildings.
"I am hoping my findings will help VU become a leader in sustainable building practices."
Mr Hick's fellowship application was backed by Australia's Construction and Property Services Industry Skills Council and Sustainability Victoria. These organisations believe Mr Hick's fellowship has the potential to drive innovation and change through the use of sustainable practices and products, and assist Victorians to be more energy efficient and reduce their carbon footprint.