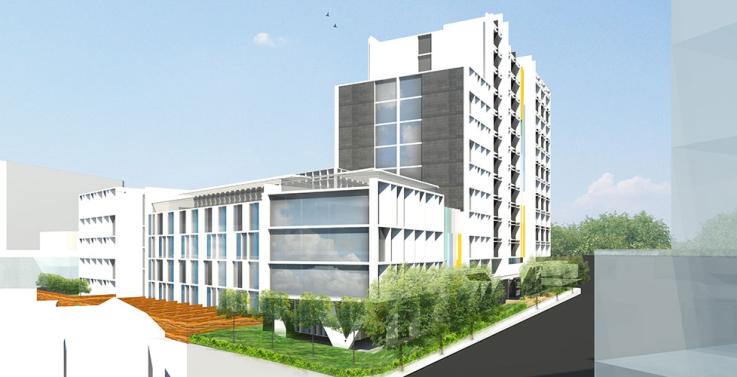 Victoria University has signed a partnership agreement with the McCall MacBain Foundation – and its investment arm Pamoja Capital – to provide student accommodation at VU's Footscray Park campus.
The Foundation is providing the funding and the operating capability for the project over a period of 35 years, after which the building ownership will revert fully to the University.
Mr John McCall MacBain officially 'turned the sod' to begin the development of the new 500 bed accommodation which will enrich student life at VU and bring more students into Footscray.
Victoria University Vice-Chancellor, Professor Peter Dawkins, said:
"We are here to acknowledge the partnership that Victoria University is forging with companies from the Pamoja Group. We have signed a number of agreements to commence the development of the site, including a building development and operating agreement.

This is an exciting development for Footscray and for the Footscray University Town project. The Footscray University Town collaboration with Maribyrnong City Council is about the development of a diverse, vibrant and creative arts precinct in Footscray and combined with the modern student accommodation we will provide here, offers a greater student experience both on and off campus, and greatly benefits not only the University but the greater community."
John McCall MacBain said the Foundation was looking for a project that would do something good for the education sector and bring long term benefits to the Foundation. He said that this project did both things.
He also announced that the McCall MacBain Foundation will give a grant of $250,000 to the University's scholarship fund.
"I hope this grant and this building will have a long term impact on the University. Good accommodation improves the academic and social atmosphere for students," he said.
Building of the new student accommodation is expected to start within the next two weeks and will be completed in time for first semester 2016.