Wednesday 16 November 2011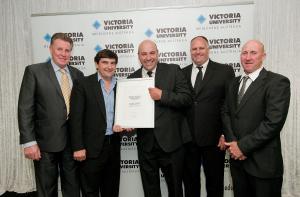 A team of Victoria University bricklaying teachers is helping new migrants learn a trade while they settle in Australia.
Murray Millar, Daniel Bonnici, Barry Walker, Lionel Skinner, Colin King, Tim Malberg and Brett Mellington last night won the Vice-Chancellor's Peak Award for Outstanding Engagement.
The School of Construction Industries team began in 2009 to offer the bricklaying "taster" program for migrants, mainly from the Burmese community. Since then, it has provided up to 50 students a year with pathways into an apprenticeship or future employment while they learn English and settlement skills through agencies such as the Adult Migrant English Program, the Adult Migrant Education Service and the Werribee Community Education Centre.
Participants learn the basics of the trade through translated training materials and visual aids. Nearly all go on to complete bricklaying pre-apprenticeships, apprenticeships or obtain jobs in the trade.
The program is offered at the University's Melton, Werribee and Newport Campuses. It has built long-term relationships with local bricklayers who provide free bricks for the course in return for having access to increasingly hard-to-find quality apprentices.
The model of training was recognised for its capacity to be adapted to the University's other vocational training courses.
The University's bricklaying area also offers a 16-week pre-apprenticeship qualification that includes a work placement in industry. After completion, most graduates receive immediate apprenticeships, helping meet the demand for bricklayers for the west's housing boom.