Wednesday 21 October 2015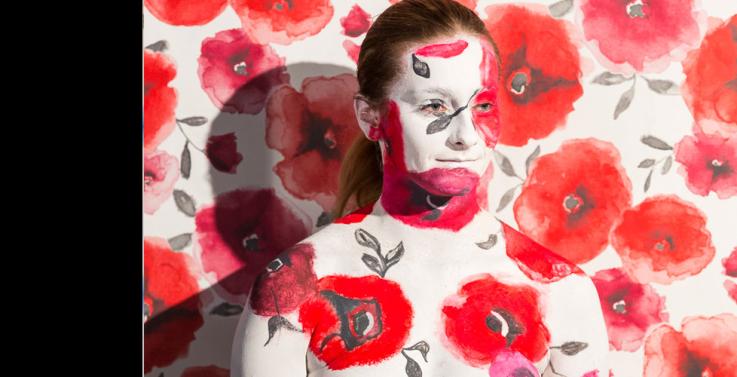 An extraordinary body painting exhibition at Victoria University has powerfully and creatively expressed the silent story of domestic violence.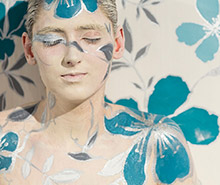 More than 250 people attended the If These Walls Could Talk pop-up exhibition at VU at MetroWest last week.
About 90 specialist make-up students worked for more than six hours, delicately dabbing body paint to replicate the intricate and complicated wallpaper patterns for 17 volunteer models.
When placed against the backdrop of large wallpaper panels, the models merged into the background – a move steeped in symbolism – to highlight the faceless victims of domestic violence.
It is estimated that one in six women experience domestic violence in Australia.
Creative director Sam Pattison said the exhibition aimed to show the lack of voice, fear and shame that women trapped in a cycle of domestic violence feel – while showcasing extraordinary body painting skills.
She said it celebrated body art while supporting White Ribbon, Australia's only national, male-led campaign to end men's violence against women.
"We wanted to help raise awareness of this issue and the exhibition is our students way of making a statement… discovering that intimate partner violence is the most common type of violence against women was a real revelation," she said.
Ms Pattison said body painting was a delicate task as students needed to replicate the intricate features of the wallpaper panels.
"It is really difficult to paint a moving, breathing body to exactly match the intricate wallpaper detail and it certainly showcased the body painting skills the students have developed during the course," she said.
Ms Pattison said the exhibition was community engagement at its best with many companies including Graham & Brown, Bunnings and video production company Mass Motion donating time and services.
"From the beginning, we have had nothing but good will from the community which goes to show how important this issue is," she said.
"For example, when an order for wallpaper was placed the supplier, Graham & Brown, asked why we needed so many variations and after Bunnings explained they donated the 30 rolls required."