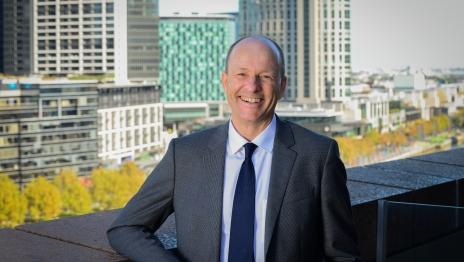 The current debate on school funding and reform in Australia provided a compelling backdrop last week for the first policy forum hosted by VU's Mitchell Institute for Health and Education Policy.
Attended by some of Australia's leading policy makers, analysts, and researchers, the forum: New Approaches for Persistent Problems, sought to deepen the national debate on education and facilitate a broader perspective to the current public policy agenda.
To stimulate the discussion, the audience heard from a panel of eminent experts comprising: Schools Funding Review member, Kathryn Greiner; CEO of The Smith Family, Dr Lisa O'Brien; Director of the Melbourne Education Research Institute at the University of Melbourne, Professor John Hattie; and Director of the Institute for Global and Online Education in the College of Education, University of Oregon, Dr Yong Zhao.
In his opening address, Mark Burford, Executive Director of the Mitchell Institute spoke of the ambitious aims proposed by its founders, the Harold Mitchell Foundation and Victoria University.
"Our work is based on a shared belief that everyone should have access to the opportunities that education and good health provide, and that by ensuring these opportunities are available to all, we create prosperity in the community and the economy," said Mr Burford.
"The task we have been set is essentially about helping to create health and education policy environments that can have a transformative effect on people lives; we are looking at some of the hardest social issues facing Australia today, and we are most definitely up for the challenge."
The Mitchell Institute's policy forum marks the official launch of its education research and policy program which aims to make a significant contribution to quality and equity in Australia's schooling system.
Speaking at the forum, the Institute's Director of Education Research and Policy, Dr Sara Glover, described the focus of the program.
"Evidence from the past 10 years suggests that despite substantial government investment, current reform efforts are having little impact on student outcomes," she said. "There are still too many children that start behind and stay behind, and too many young people falling through the cracks. Unfortunately, those who rely most on education are doing the worst."
"If we want to see real policy change that has impact then we need to look from the inside out – starting with children, young people and families, and working outwards to see how systems help or hinder development and learning," Dr Glover said.
"What MI will do is collaborate with our research and policy colleagues to examine the evidence and identify critical paths and transformations to the system that will make the greatest difference to those it affects the most," she said.
The Institute will be publishing a policy report on the forum in early February. More information on the Institute can be found at mitchellinstitute.org.au.