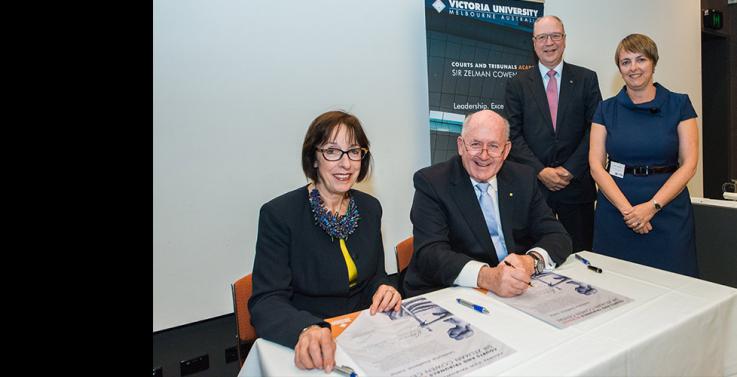 Governor-General Sir Peter Cosgrove and the Chief Justice of the Supreme Court of Victoria, Marilyn Warren, have officially launched Australia's Courts and Tribunals Academy.
They were joined by Vice Chancellor Professor Peter Dawkins and The Hon. Nicola Roxon, Adjunct Professor and Chair of the Sir Zelman Cowen Centre
The Victoria University Sir Zelman Cowen Centre will work with courts and tribunals across Australia to improve the way they are administered and managed. The Academy is the only one of its kind in the country.
The Academy Director, Professor Kathy Laster, said the Academy will support management and administration work being done by courts and tribunals.
"Our aim is to assist in the development and implementation of world's best management practices within Australian courts and tribunals across all areas of non-judicial work including governance, strategy, people management, IT, finance and risk management," Professor Laster said.

"The launch of the Academy comes as courts and tribunals face growing workloads and mounting pressure to increase output and efficiency,

"Without extra funding from government to achieve these objectives, improved management practices will help in dealing with these challenges."
The Academy will focus on research, education and training for court personnel other than judges. Members of the judiciary already receive excellent support and service in these areas and the Academy will provide this for court staff.
You can read the Governor-General's full speech online.