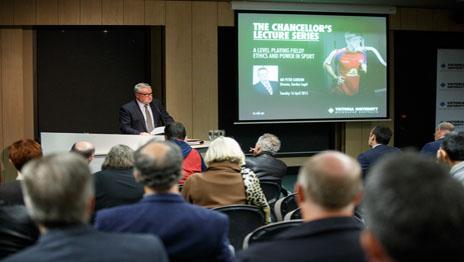 The 'Any Given Sunday' principle is the optimal working model for a professional sporting competition said Peter Gordon, President of the Western Bulldogs AFL Club.
Delivering the Chancellor's lecture at Victoria University this week, Peter Gordon said that this principle first established in American football in the 1950s, is about artificially interfering with the free market economics which operate among AFL clubs to achieve the greatest degree of evenness of teams, and uncertainty as to who will win each week.
Peter Gordon said, "I unequivocally support the 'Any Given Sunday' principle. It means that every weekend, there are not just one or two blockbuster games, but many more. This increases ratings and revenue and engages the whole of the industry fan-base.
"It also means that a young man drafted to GWS, the Western Bulldogs or Port Adelaide has the same prospect of premiership success as his best mate who got drafted to Collingwood."
While Peter Gordon supports intervention to achieve equalization, he says that the ongoing effect is that all clubs will look for that one percent advantage, and in doing so, they will often be accused of 'pushing the boundaries'.
"One inevitable effect is to intensify the confinement of the parameters for success and failure, to the search for the smallest of edges in the fields of roughly equal endeavour – in areas such as recruiting and list management, injury rehabilitation and management, deployment of sports science in all its offerings, sports psychology, and on field strategy."
He explained that "finding a way to pay players beyond the standard salary cap might be illegal and it might be unfair, but in the hothouse environment of the equalised AFL, it might also be the 1% edge which wins you a flag.
"Injecting substances which make your players just a little 'fresher' for a crucial final could create a difference which is magnified into a game changer, because every other area of competitive football endeavour in the AFL is designed to ensure a contest between equals.
"If Essendon truly has happened upon the AFL player equivalent of a secret recipe of eleven different herbs and spices, then unlike Colonel Sanders, there is little chance it would be able to keep that intellectual property to itself for the next forty years. It will either be banned or in two years time, every club will have its own Colonel Sanders. That's the nature of the industry."
Peter Gordon said while this 'pushing the boundaries' might be seen as abnormal or abhorrent – it is not only of the essence of professional sport, it is required, driven and mandated by the fundamental economic principles which underpin the professional sporting industry.
"In this environment, thinking about pushing the boundaries is not just common sense, it's unavoidable, it's probably negligent not to.
"When we as clubs go into battle each year and each week, we know that we are competing with roughly equal resources. If we know or if we suspect that that rough equality might be distorted by even a small factor, an edge, an element which one club has, we will as we must, strive to emulate it and then better it."
However as far as the current debate on the use of supplements to push boundaries goes, Peter Gordon said, "My clear preference is that this area be taken out of the field of competitive endeavour by being banned. In my view, permitting the unregulated use of performance-regulating substances breaches a number of primary ethical obligations we as an industry owe our players, the code, the kids who watch and the broader community."
He said it is up to the AFL and the regulatory bodies to do their jobs well, both in setting the ethical priorities and in enforcement.
He said that while most peoples' eyes glaze over at the mention of ethics – ethics have practical industrial applications in professional sports.
Sometimes, this involves hard choices but the task of ethics in professional sport is to set the boundaries and also to establish principles by which innovation which pushes those boundaries is evaluated.
"The more commercial and less lofty features of professional sports are not a reason for ignoring the creation and maintenance of a proper ethical framework for professional sport. In fact, they make it all the more important," Peter Gordon said.