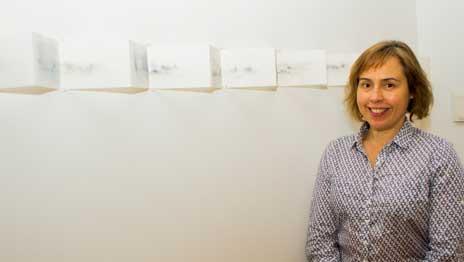 Congratulations to Meredith Marshallsea, winner of the 2013 VU Art Prize.
Awards organiser Eko Hermawan, VU's Media and Recreation Officer, says he was dazzled by the variety and quality of the works submitted.
"The 2013 awards attracted a range of mixed media from a crochet art piece to digital media printed on tile," Mr Hermawan said. "The awards showcased innovation and the depth and diversity of artistic talent at VU."
Ms Marshallsea won the 2013 competition with a mixed media piece. The digital print on paper with water colour was inspired by a trip to Yellowstone National Park in the US.
She credits her experimentation with technique and materials during her Diploma of Visual Art studies as the confidence builder to produce the winning artwork.
"Winning the VU prize was fantastic," Ms Marshallsea said. "It encourages me to continue creating artwork."
The 2013 winners:
1st prize $500: Meredith Marshallsea (Diploma Visual Arts)
2nd prize $300: Nicole Jordan (Diploma Visual Arst)
3rd prize $200: Jasmin Gardien (Diploma Visual Arts)
The 2013 competition entries will be on public display until 6 September 2013 at VU's Level 17 Gallery, City Flinders Campus.
The annual VU Art Prize competition is open to all VU students.