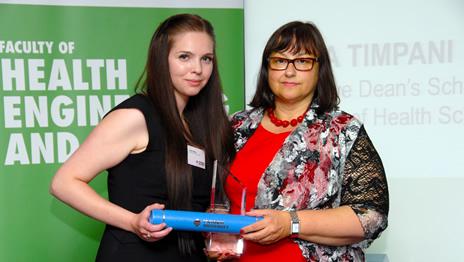 Bachelor of Science (Honours) in Biomedical Sciences, Cara Timpani, was presented with the Executive Dean's Scholar Award at the 2012 Faculty of Health, Engineering and Science Awards Presentation, amongst other shining stars of fellow student award recipients.
This prestigious event, held at Victoria University City Flinders campus on 2 April, formally acknowledged 75 students from the Faculty for their outstanding academic achievements and performance in 2011.
Upon accepting the major award of the evening, Cara shared her journey at VU and the excitement that was kindled through her Summer Scholarship experiences that have now culminated in her wanting to continue on into a PhD at VU.
Guest speaker for the evening was Associate Professor Tony Walker ASM, General Manager Regional Services, Ambulance Victoria. Associate Professor Tony Walker provided an insightful and encouraging keynote address to a room full of outstanding students, their parents and friends, academic staff, industry partners, award donors and sponsors.
Key highlights of the evening were the Council of Ambulance Authorities Accreditation for the Paramedic Science Course by Mr Greg Mundy, CEO CAA, and Emeritus Professor Conferral presented to Professor Roger Gabb.
We congratulate all the student recipients of the awards, with a special mention to all the staff in the Faculty of Health, Engineering and Science who were involved with the students in the delivery of their learning needs and support.
You can view the list of students and their awards.