Wednesday 8 February 2012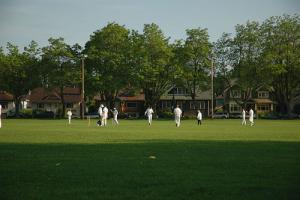 Victoria University researchers have demonstrated the all-season synthetic pitches used by some suburban cricket clubs are too bouncy.
The surface with a rubbery underlay is more resistant and can be left year-round instead of the roll-out synthetic mats traditionally used by suburban clubs - but it had also caused complaints from players about dangerously high ball bounce.
Victoria University School of Sports and Exercise Science researchers Dr Kevin Ball and Dr Con Hrysomallis used super slow-motion cameras to measure the speed and angle cricket balls bounced off each different pitch.
Results showed the ball popped up higher on the rubbery pitch compared to turf and traditional synthetic roll-out surfaces.
"The cricketers seem to have been right about the bounce being higher, and that could indeed be a safety issue especially for players moving between pitch surfaces," Dr Ball said.
Results also showed the ball came more slowly off the new type of pitch.
Meanwhile the traditional synthetic pitches and turf pitches were found to behave similarly to one another in bounce height and speed.
"The fact the new pitches performed differently to the other types has implications not only for safety but also skill development," Dr Ball said. "Junior players will get used to the slower, higher bounce then progress to the seniors where pitches act very differently."
Most suburban clubs are using a mixture of these old and new synthetic pitches while the more elite clubs are using turf pitches.
Since the testing, the company producing the surface has adjusted its product to better mimic turf wicket conditions.