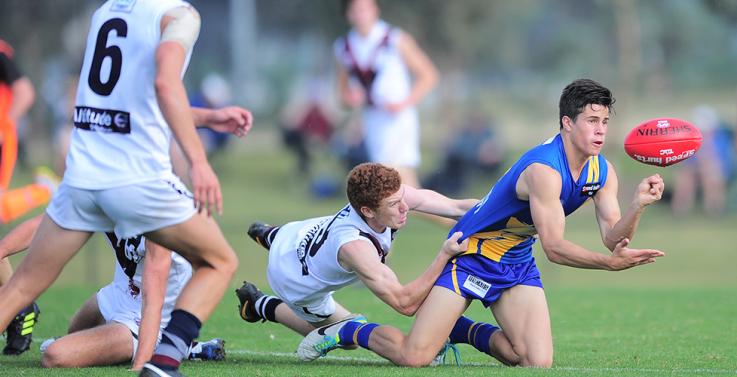 Five players from the Victoria University-sponsored Western Jets Football Club have realised their dream of being selected in the AFL draft.
The players include:
Liam Duggan (selection 11, West Coast Eagles)
Corey Ellis (selection 12, Richmond Football Club)
Jayden Laverde (selection 20, Essendon Football Club)
Dillon Viojo-Rainbow (selection 28, Carlton Football Club)
Connor Menadue (selection 33, Richmond Football Club).
They join a long list of current and past AFL players recruited from the club including Essendon's Dustin Fletcher who played in the Jets first ever team in 1992.
VU has been a sponsor of the Western Jets for 16 years, and during that time many players have chosen to study at VU. Each year VU staff provide advice on study and career options to the Western Jets playing squad. The University also offers the Nathan Prince Scholarship for a Jets player enrolled at VU.
Western Jets Talent Manager, Shane Sexton said: "this is one of the best draft results in the history of the Club. It is a great result for the boys that have been drafted, we wish them all the very best for their future AFL careers. We also thank all of our staff, parents and sponsors who have contributed to this excellent outcome."
The Western Jets have provided significant work placement opportunities for VU students, many of whom go on to work for the Jets. In 2014, 28 VU students and alumni undertook work placements or worked with the club.
All five of this year's drafted players participated in the Victoria University U/15 Skill Acquisition Squad in 2011. This is a collaborative initiative with the Western Jets that occurs every year at this age level.