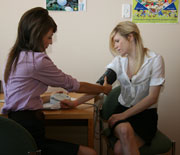 The University's nutrition clinic at the St Albans Campus has opened its doors for consultations once again.
Clinic director Michael Mathai said students and staff are welcome to make use of the service, which is staffed by nutritional therapy students under the supervision of qualified clinicians.
"Nutrition can make a big difference to health and wellbeing," Dr Mathai said.
"Nutritional therapy uses diet, supplements and lifestyle advice to maintain and enhance health. It can assist stress, immunity and many other health conditions."
Consultations are just $15 for students and anyone with a health care card, and $21 for staff and others.
The clinic is open from 9am-1pm on Tuesdays and Thursdays and from 9am-5pm on Wednesdays.
It is located at Building 2 next to the McKechnie Street car park on the St Albans Campus. To make a booking call 9919 2625.
A second clinic will open at the Footscray Park Campus later this semester.