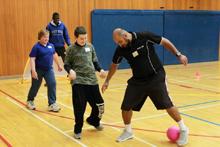 VU's Adapted Physical Education team has been recognised at the Victorian Disability Sector Awards for its significant contribution to improving the lives of primary and secondary school students with disabilities.
The program's facilitators – Anne Browne, Loretta Konjarski, Sonja Kiernan and Dr Janet Young – received the Business and Community Supporting Disability Award 2013.
"There are so many good things being done in the adapted area so it's heartening and humbling to be recognised," says Young. "The award confirms that the work we're doing is making a real difference to a lot of individuals."
This semester alone, the Adapted Physical Education program was delivered to 150 participants across seven schools in the west and northwest region by more than 50 third-year VU physical education students. Participants receive one-on-one support with activities tailored to meet individual needs.
"For so many of our participants, it's the highlight of their week. The program provides them with an opportunity to socialise and engage in physical activity and learn valuable motor skills," says Young.
As well as making a positive difference to the community, VU physical education students greatly benefit from the hands-on learning the program affords.
"The program prepares students to teach, coach, and become a specialised practitioner in education. By teaching in this environment, students can adapt their learning and take this confidence into their career," says Kiernan.
The Victorian Disability Sector Awards are a partnership between National Disability Services Victoria, Disability Professionals Victoria and the Department of Human Services.