Tuesday 18 September 2012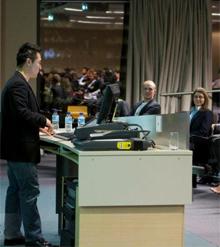 The newly established Accounting, Finance and Investment Student Society (AFISS) has secured a sponsorship arrangement with CPA Australia.
Acting AFISS President Konstantina Tsimiklis said the CPA sponsorship was proof the Society had been successful in raising its profile and forging connections with industry.
The sponsorship arrangement would further strengthen the AFISS relationship with CPA, and would help fund future AFISS activities, Konstantina said.
"We are very happy with the CPA sponsorship. It will ensure we can hold regular events for our members. Our most recent networking event, held on 24th August, was a great success, with more than 50 students attending and industry representatives from a diverse range of firms present," she said.
The event included two presentations and an informal networking session of drinks and finger food. Representatives were present from the following organisations: CBA, PwC, KPMG, CPA, ANZ, Lion Capital, NextDigital, TWUSuper, KEAT International and AMP Horizons.
"The evening went exceptionally well, with the representatives highly pleased with the quality and number of engaged students present," Konstantina said.
"This kind of access and exposure is one of the major attractions our Society has for students: They can see that membership will bring them these unique opportunities to talk directly, and in an informal setting, to people in industry."
Konstantina said most AFISS members were keen to find out what the leading firms in the banking, finance and investment sector were looking for in graduates. "Our events give them an opportunity to find out."
Professor Russell Craig, Head of the School of Accounting and Finance, said AFISS was a good example of what VU students could achieve by pooling their energy, skills and enthusiasm.
With a growing and broad-based membership, expect to hear more about AFISS in the future.