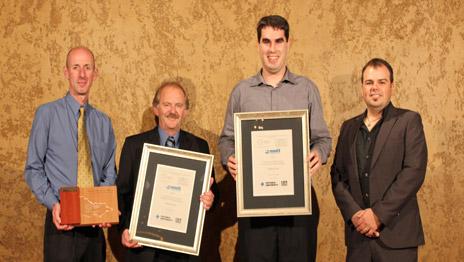 Victoria University students Sam Eyre and Osake Fukishima from the of School of Construction Industries received accolades at the recent state awards of the Australian Furniture Association Inc(AFA).
Sam Eyre took out top honours in the Certificate II in Furniture Making Award, with a contemporary style dining table he designed and handcrafted. Osake Fukishima's hard work received an honourable mention in the Certificate III in Cabinet Making division. Sam designed and handcrafted a contemporary style dining table.
"These guys created outstanding furniture pieces" says Peter Jacobson, from VU's Head of School, School of Construction Industries, "Our teaching staff have played a great role in developing the talent of these young men. We congratulate all involved"
Sam's entry has been nominated for the 2012 The Australian Furniture of the Year Awards coming up in July.
AFA was established to promote the profitable growth, competitiveness, innovation and export readiness of all Furnishing and Allied Industry participants. The association holds annual awards for industry training to recognise those students within the furnishing sector who demonstrate commitment, innovation and outstanding achievement.
Victoria University's Furniture and Cabinet Making courses introduce students to the woodworking skills to create cabinets, shelving and furniture using specific tools and techniques. Our training programs are responsive to student expectations and employer's needs.
Phone: +61 3 9919 8408
Email: [email protected]