Wednesday 3 November 2010
As the sun edged the horizon in the small town of Heathcote in Victoria, Australia, a young Aboriginal warrior appeared next to a tree with the majestic stance of a hunter, a spear grasped in one hand.
It was a vision of the past, an image somehow caught in time, an apparition of Aboriginal culture before history invaded.
"It was a very strange and powerful moment," Paola says. "He was just walking along and he picked up a stick and suddenly there was this image on the wall. I took a photo on my phone with my own shadow projected onto a nearby tree, reflecting both of our grieving processes at the time.
"When I looked at the photo later I got a bit of a shock at how different he looked because he was only five years old and quite little in stature. In the photo he actually looked taller, bigger and more muscular.
"When my mother saw it she said that she could see an old man's face on the wall. It was a bearded face with dark eyes and she said it was an old spirit looking after my son. I can see the face every time I look at it now."
From a plain brick wall in a country town, the little shadow warrior is now travelling to the birthplace of his grandfather on the other side of the world.
Paola's picture, called Katen Boy, is part of the biggest exhibition of Indigenous art to leave Australian shores.
"My mother is from the Wemba Wemba and Gunditjmara peoples and my father is Italian. I grew up between these two cultures and it's amazing that my work has ended up there," Paola says.
The Melbourne resident and Victoria University lecturer is one of 80 Aboriginal artists from across Australia whose works will be on show in some of Italy's major galleries.
The not-for-profit exhibition, titled Rainbow Serpent, will open in Sardinia in February and move to Milan, Venice and Sicily during a three year tour.
Paola, 36, said it was an "absolute honour" to have three of her installations included with more than 300 pieces of art from places as remote as the Tiwi Islands.
"I've never been to Italy so I feel really excited because it's great international exposure," she says. "As an artist you always hope to have some sort of showing internationally."
However, the eight artists chosen to travel with the exhibition are still waiting for an answer to their request for funding from the Federal Government to make the trip.
"I was lucky enough to be chosen to travel with the exhibition because of the interest in my Italian heritage," Paola says. "I hope the Australia Council understands what a great opportunity it would be for us to travel over there.
"There's a growing interest in Indigenous culture in Italy and particularly contemporary art. It would be great to represent our communities over there and educate Italians about our culture."
Paola, who grew up in the Murray River town of Echuca on Yorta Yorta country, has been drawing and painting since she was a young child.
"My grandmother was a landscape oil painter and she used to take a piece of charcoal out of the campfire and tell me to draw things. I've started moving into photography and installations recently.
"I use objects that I find on the footpaths around my home, in local op-shops, and from neighbour's hard rubbish. It's environmentally responsible in that way. We are a very resilient people and I try to express our experiences through my work. Art can be a form of activism for Indigenous people."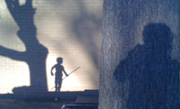 Paola Balla's Katen Boy
Contact us