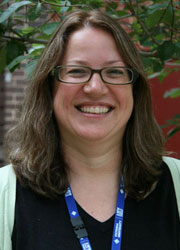 Living in Japan for six years was an epiphany for VU's new sustainability officer, Anne McLean. "Cycling was my main mode of transport, as it is for many Japanese people," she explains. "I began to think about how we need to shift people away from private motor vehicles in Australia.
"With mountains making up to 70 per cent of Japan, space is at a premium, and cycling is the sensible option. Car parks take up too much space. In most Japanese cities you'll see thousands of bikes parked at train stations. It's how most people get around when they have only a short distance to travel or to access public transport."
Upon returning to Melbourne Anne, who had previously worked as a local government administrator, enrolled in a Masters of Social Science in Environment and Planning at RMIT University. After completing her studies she took a job with Hobsons Bay City Council in the western suburbs as a sustainable transport officer.
Although it was urban density that converted the Japanese to cycling, peak oil and global warming became the drivers of Anne's crusade in Australia. "The cost of moving people around in fleets of cars is rising rapidly," she says. "Not only is that environmentally unsustainable, it's economically unsustainable in the long term."
Transport will be the main focus of her new job at VU, where her first task is to encourage a move away from high carbon-emission transportation to and from work and for trips between campuses.
The first stage is to help manage and evaluate an online transport survey that staff and students will be asked to complete over the week 30 March - 3 April. The survey, targeting major employers, is being conducted by the Victorian Transport Department's TravelSmart program.
Some initiatives being explored as alternatives to motor vehicle travel are:
Metcard vouchers in lieu of taxi vouchers
the ability to purchase yearly Metcards through the University at 10 per cent discount
expanding and improving the car pooling scheme
the provision of bicycles for short trips
Most of these ideas have been tried elsewhere, with mixed success, indicating it's not just a matter of efficiency, it's also about changing the way people think and the values attached to cars.
"Transport is the tricky bit in the behavioural change we need to shift to sustainability," says Anne. "Talk to people about water saving and they appreciate the need immediately. The same is starting to happen with energy use around the home or the office. Most of us are happy to turn off lights, switch off PC monitors and so on.
"With transport we're just not there yet. Most people don't get the connection between fossil fuels and carbon emissions. But it's more than that - it's as if we now regard our personal mobility in private motor vehicles as a right. It's a highly emotive issue with connections to personal space and freedom of movement. People want to be able to move from door to door wherever and whenever they like. That's been subsidised by governments for a long time with road-building and influenced by the road transport lobby."
As we move to a carbon emissions cap and trade scheme, all of us, whether we act as individuals, business managers or in large institutions such as VU, will be challenged to examine and reduce our greenhouse gas emissions, so the University has no choice but to begin encouraging the changes needed because of global warming.
Among Anne's other briefs apart from transport are composting - she's already started talking to staff at the Iramoo Sustainable Centre on the St Albans Campus - and a green office project. There are links to transport there too.
"Eventually, almost everything in the sustainable sector comes back to transport," she says. "How do we shift all the university's compost material to St Albans? It's one of many questions Anne will be working on - sustainably - over the next few years.
Anne will work alongside environment co-ordinators Jillian Bambach and Sophie Gaballa in the Environment Office's new location at 10 Geelong Road, across from the main Footscray Park Campus.
Fill out the TravelSmart survey here.