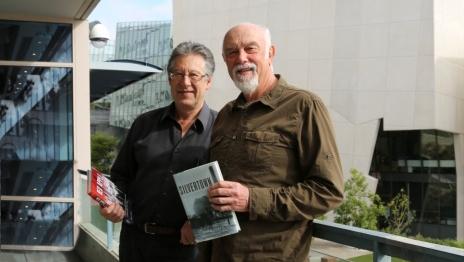 Two new history books take a fresh look at major social struggles and those living them.
Red Apple: Communism and McCarthyism in Cold War New York and Silvertown: The Lost Story of a Strike that Shook London and Helped Launch the Modern Labor Movement were launched in March at Victoria University by Professor Stuart Macintyre.
In Red Apple, Victoria University historian Professor Phillip Deery looks at the human consequences of McCarthyism during late 1940s and 1950s America.
He is particularly concerned with how domestic Cold War crusaders undermined civil liberties, curtailed equality before the law, and ultimately tarnished the ideals of American democracy.
His book explores the House Un-American Activities Committee; hearings of the Joint Anti-Fascist Refugee Committee, resulting in the incarceration of its chairman Dr Edward Barsky and its executive board; the academic freedom cases of two New York University professors, Lyman Bradley and Edwin Burgum, culminating in their dismissal from the university; the blacklisting of the communist writer Howard Fast and his defection from American communism; the visit of an anguished Dimitri Shostakovich to New York in the spring of 1949; and the attempts by O. John Rogge, the Committee's lawyer, to find a "third way" in the quest for peace, which led detractors to question which side he was on.
Professor Deery explores how these six individuals experienced, responded to, and suffered from one of the most savage assaults on civil liberties in American history.
Meanwhile, in Silvertown, fellow Victoria University historian Dr John Tully explores the massive worker revolt at Samuel Winkworth Silver's rubber and electrical factory in 1889, which upended the London industrial district which bore his name: Silvertown.
While largely overshadowed by the many other strikes during this period, Dr Tully argues for the Silvertown uprising's significance to both the labor and socialist movements.
The factory was notorious for oppressive working conditions and the relentless grind of production suffered by its largely unorganized, unskilled workers until they aligned themselves with the socialist-led "New Unionism" movement and helped launch a more radical, modern labor movement.