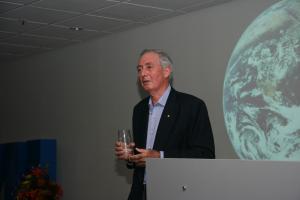 Professor Ian Lowe, President of the Australian Conservation Foundation, describes himself as a "congenital optimist" and his message was indeed optimistic when he outlined the role that education might play in ensuring that the world has a sustainable future. Professor Lowe delivered the Dean's Lecture at the City Flinders campus on Friday 26 November.
Professor Lowe said: "The crucial task is to equip those we educate to be lifelong learners who will be able to cope with change."
He portrayed climate change as "the issue that overshadows all other issues". While acknowledging the uncertainty of science he explained that climatic patterns indicate that what scientists predicted in their modelling of the earth's warming twenty years ago is now actually happening.
Professor Lowe said: "We need to decarbonise the world by the end of this century because a future without climate policy, maintaining a business as usual approach, with more people consuming exponentially will result in a credible temperature increase from 3 to 8 degrees."
He said that Australia needs a radical transformation of energy supply and use. The possibilities for renewable energies are enormous.
"All 6.8 billion humans' total global energy use is twice the amount of solar energy that hits Australia in one day alone."
Education is fundamental because it can inform the scale of problems, research alternatives, analyse the strengths and limits of alternative responses and review the cost and benefits of alternative courses of action. Education has the responsibility of preparing the world for change.
A panel discussion followed Professor Lowe's address. The panel consisted of Professor Greg Baxter, Professor Steven Gray, and Doctor Colin Hocking.
The panel confirmed that Victoria University has an ongoing commitment to sustainability, which will become part of everything we do. We need to look at how we go about our research and partner with national research organisations in order to be effective.
Dr Colin Hocking summarised the evening by saying that sustainability should be part of everyone's education "" primary secondary and university. He concluded that universities are agents for creating a positive future.
The lecture was hosted by Professor Michael Hamel-Green, Executive Dean, Faculty of Arts Education and Human Development.