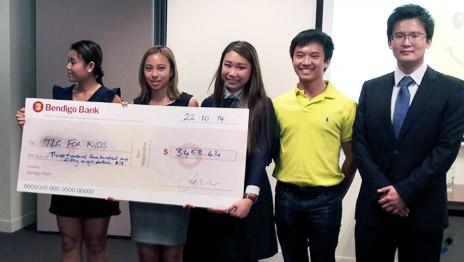 Business students taking part in this year's Victoria University Bendigo Bank Charity Challenge last week presented cheques totalling $7,500 to a number of charities.
Twenty-nine students across six teams helped take the program's total fundraising since 2006 to over $100,000, assisting organisations such as
The Bendigo Bank Charity Challenge aims to help connect VU students with their community while gaining first-hand business experience. The positive community impacts also contribute towards VU's mission to help develop the capacities of our region.
Facilitated via the Professional Development 3 subject, students work in their teams with their VU lecturer, Charity mentor and Bendigo Bank mentor to develop and implement a multi-layered fundraising strategy. Bendigo Bank provides each team $250 in startup funds. Mentors assist students with communication protocols, event management, marketing, negotiations and managing staff/ team members.
When presenting cheques to their organisations, the students outlined their strategies, achievements and things they have learned. Activities to raise funds and awareness for their charities included trivia nights, movie nights, charity fashion parades, sausage sizzles, car washes, bake sales and music festivals.
Over the past eight years, many students have found that the Bendigo Bank Charity Challenge experience increased their understanding of the benefits of volunteer and charity work, and that working with industry mentors enhanced their understanding of employer expectations and provides a 'real life' industry experience. It also develops tangible employability skills such as problem-solving, communication, negotiation, customer focus and teamwork.
In the past some students have even secured employment from Bendigo Bank through their involvement with the Challenge.
View Team Helpers promotional video about raising money for TLC for Kids.