Wednesday 22 October 2014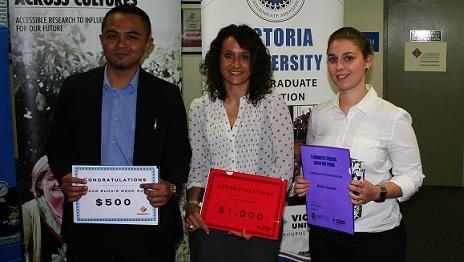 The VU 3MT Final held on 20 October 2014 saw ten research students battle it out to present their research in a nail biting 3 minutes.
Professor Helen Borland, Dean of Graduate Research, chaired the judging panel and thanked all ten of the Victoria University finalists for their outstanding research and performances. Helen stated that, "the calibre of the presentations has been improving each year".
Jean Hopman from the College of Education won the University's 3 Minute Thesis Final for her presentation: Emotion-s/tuff. Jean was awarded $1,000 as well as flights and accommodation to enable her to represent VU at the 3MT Trans-Tasman Final at the University of Western Australia on 3 November 2014.
Mohd Zuhair Nohd Nor from the College of Health and Biomedicine won the $500 Runner Up prize for his presentation: Love Pineapples, Filter the Waste.
Melissa Sbaraglia from the College of Sport and Exercise Science won the People's Choice prize for her presentation: Movement Medicine: Moving People with Type 2 Diabetes to Exercise. As the People's Choice winner, Melissa was awarded a Samsung Galaxy Tablet.