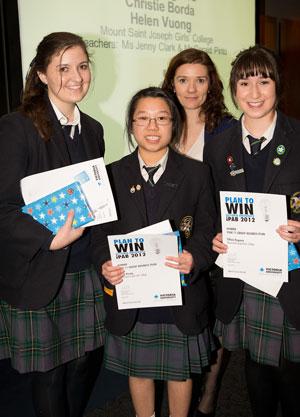 Victoria University's 'I Plan A Business' (iPAB) competition gives Victorian secondary students the opportunity to win fantastic prizes. To put yourself in the running, come up with an original business idea and create your business plan.
If you are a Year 10 or 11 student start preparing your business plan now! The categories for entries are:
Year 10 Individual
Year 10 Group (4 or less)
Year 11 Individual
Year 11 Group (4 or less)
Participation is free.
Teachers have reported their students have enjoyed participating in iPAB, seeing them explore essential elements of their school curriculum in new and interesting ways.
VU will host an awards ceremony for entrants on a date to be determined in October – you can bring along your friends, family, teachers, principals.
Download the iPab guide for important information to get you started. Don't forget to complete the entry form and submit with you business plan. Completed business plans must be submitted by 5pm on Friday 20 September 2013.