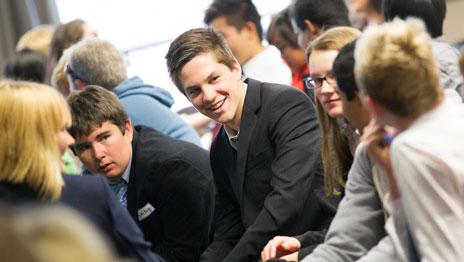 VU is proud to be partnering with the 2013 Australian Business Week (ABW) Enterprise Education program. ABW is one of Australia's most successful enterprise education programmes for secondary students.
During the program year 10 and 11 students will participate in activities that will test and develop their business skills, teamwork, leadership abilities and creativity.
Guided by expert mentors, students will be divided into teams and given a variety of tasks. Students will be required to work online for the duration of the program, communicating with their team members from school and home.
Students will meet at the City Flinders campus over four days for a fantastic range of different activities.
The previously advertised dates for July and August have been rescheduled to all take place in September 2013.
The program will now run on the following days:
Saturday 14 September 10am to 4pm
Monday 23 September 9am to 5pm
Tuesday 24 September 9am to 5pm
Wednesday 25 September 9am to 3pm.
Winners will be announced at an awards ceremony on the final day of competition. Students are encouraged to bring family, friends and teachers along to this event.
ABW 2013 is completely free of charge.