The competition was developed by Victoria University to provide an incentive for students in the Western Region of Melbourne to practice their business planning skills and to encourage them to consider entering the national business plan competition.
The concept was fine tuned with the help of a group of teachers from the Western Region of Melbourne with the aim to connect the competition with the curriculum that students cover in their studies.
The competition provides the opportunity for young people in the West to demonstrate their entrepreneurial capacities and it has been strongly supported by several local councils and LeadWest, the organisation that promotes economic development in the West.
The Faculty of Business and Law has been encouraged by the number of schools and students who have entered the competition in this first year. We see great promise for the competition in the future. We hope that the teachers have found it to be a useful learning exercise and they will persuade more students to enter next year.
The Faculty wishes to thank those organisations that have provided sponsorship for the competition. We look forward to their ongoing support for this competition in the future.
These include:
The Western Bulldogs
RACV Driving School
The City of Wyndham
The Shire of Melton
The City of Maribyrnong
Nandos
We are also pleased to announce this year's winners.
iPAB Award winners for best business plan 2009
Category
Sponsor
Winner
Business Idea

Year 10 Individual

Western Bulldogs

Bianca Calleja
Melton Christian College

Sizzling Chips
Bianca's research identified a need for hot chips at lunchtime at her school. Her plan was to provide sizzling, hot and tasty chips.

Year 11 Individual
Equal Winner

RACV Driving

Julie Lam
Sunshine College

Yuki Café
Julie presented a great plan for a Café situated in the heart of Melbourne's tourism and business district that has one clear aim. To be Australia's number 1 coffee destination

Year 11 Individual
Equal Winner

Best in Wyndham

Wyndham City Council

Ashlee Glazner
Werribee Secondary College

Point to Pointe
As a dancer herself Ashlee has created a great concept for dance clothing including shoes and accessories based in Wyndam.

Year 10 Group

Victoria University

Lucian Stetco
Milos Kalajdzic
Christian Rodriguez
St Albans Secondary College

Diabuzz
Based on a personal knowledge of diabetics, this team has created a plan for a 100% sugar free energy drink complete with branding and future plans to share profits with a charity

Year 11 Group

Victoria University

Annie Vo
Hayley McCormick
Deer Park Secondary College

Stacks On
Through marketing research, the 'Stacks On' team provided a well researched plan identifying a need for affordable pancake's in the Brimbank Area.

Multi Media

Victoria University

Stephaine Obeid
Nicole Haddad
Lowther Hall Girls Grammar School

Nikanie
This teams very energetic and musical presentation outlined a plan to provide affordable garments that are 'dressy and chic' using young designers fresh out of university.

Best in Melton

Melton Shire

Brittini Doohan
Melton Christian College

Ideal Treats
Brittini demonstrated market research and human resources management skills with a plan revolving around the idea of serving tasty treats "with a smile".
School Awards

Deer Park Secondary College

Nandos

Mirko Djurkovic

A+ Coffee

Melton Christian College

Nandos

Rachel Newlove

Ideal Treats

Lowther Hall Girls Grammar School

Nandos

Kathy Maroudas
Clare Levine

Fashion Store

Sunshine College

Nandos

Nikkie Phan

City of Atlantis Fish and Chips

Bayside Secondary College

Nandos

Justin Camilleri

Electrophobia Nightclub

St Albans Secondary College

Nandos

Rachael Vongkham
Rosalie Mustica
Ahmo Mustafic
Hewad Shapoor

Chips R Us

MacKillop College

Nandos

Ainslee Ferguson

Ainslee's Pampered Pets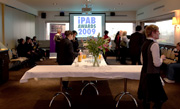 iPAB Awards Ceremony
For further information on the iPAB awards, please contact:
John Breen
Professor, Faculty of Business and Law
Phone: +61 3 9919 4641
Email:

[email protected]