World Congress on Elite Sport Policy 2015
This event has already taken place.
Monday 23 November 2015

to

Tuesday 24 November 2015
The World Congress on Elite Sport Policy (WCESP) is a biennial global event for sporting professionals which focuses on elite sport success.
This year's conference questions:
who (or what) are the winners when it comes to participating in, or owning and hosting elite sport events?

what are the outcomes that elite sport systems are delivering to various stakeholders?
WCESP2015 is hosted by the Victoria University (VU) College of Sport and Exercise Science and Institute of Sport, Exercise and Active Living (ISEAL) and supported by the Sports Policy Factors Leading to International Sporting Success (SPLISS) Consortium.
Our role as the first international host of WCESP outside of the SPLISS consortium further cements VU's reputation as Australia's leading sport university. It highlights our leadership in sport policy research and education to profoundly relevant local, national and international audiences.
The conference is also organised in close cooperation with:
Free University of Brussels (Belgium)
University of Utrecht (the Netherlands)
Sheffield Hallam University (United Kingdom).
Speakers & attendees
The event will feature 2 keynote speakers, 4 invited speakers, 6 workshop chairs, a public forum panel and a conference dinner speaker.
Speakers and attendees will include:
academics
sport scientists
researchers
sport policy makers
sport consultants
elite sport coaches
major sport event organisers
city and destination marketers
representatives from NOCs, IOC, and national and international sport governing bodies.
Confirmed keynote speakers are:
Fiona de Jong, General Secretary, AOC
Simon Shibli, Director of the Sport Industry Research Centre (SIRC) at Sheffield Hallam University.
Confirmed invited speakers are:
Simon Hollingsworth, CEO, ASC
Andrew Westacott, CEO, Australian Grand Prix Corporation
Jacco Verhaeren, National Head Coach of Swimming Australia.
Confirmed workshop chairs are:
Jasper Truyens, SPLISS Researcher at the Department of Sports Policy and Management of the Vrije Universiteit Brussel
Professor Hans Westerbeek, Dean, College of Sport and Exercise Science and Institute of Sport, Exercise and Active Living at Victoria University
Professor Veerle De Bosscher, Associate Professor, Department of Sports Policy and Management at Vrije Universiteit Brussel.
About SPLISS
SPLISS (Sports Policy factors Leading to International Sporting Success) is an international network of research cooperation that coordinates, develops and shares expertise in innovative high performance sport policy research.
During the conference, SPLISS to launch innovative research into international elite sport practice.
SPLISS has set up an international collaborative project with:
43 researchers
33 policy partners across 15 countries
over 3000 elite athletes
over 1300 elite coaches
more than 240 performance directors.
The results of this elite sport benchmarking research will be presented during the WCESP2015 along with the launch of a book on the 2.0 SPLISS Project which builds on the initial research.
About sport at Victoria University
Victoria University is Australia's leading sport university. Our outstanding reputation in sport, exercise science and active living is tied to a long tradition of extensive course offerings, major research, international partnerships, state-of-the-art facilities and expert academic staff from around the world.
As a leading sport university in Australia, we have the:
largest number of students enrolled in sport courses
greatest number of sport-related industry partners
highest graduate employment outcomes in Australia
most graduates working in the sport industry.
Our $68 million Sport and Learning Precinct facilities at Footscray Park Campus are used by students and researchers, professional sports teams and community organisations. Features include a high altitude 'hotel', exercise physiology labs, biomechanics labs and heat chambers, as well as integrated teaching and learning facilities.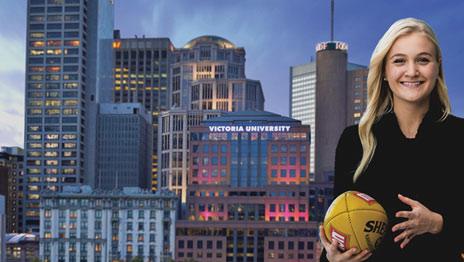 When?
This event has already taken place.
23 November 2015

to

24 November 2015